Unveiling the new standard in digital riflescopes: Wraith.
---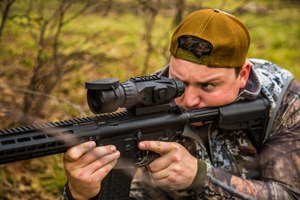 MANSFIELD, Texas — Sightmark introduces the Wraith Digital Riflescope: the future, in high definition. The 4-32x50mm Wraith digital riflescope is a revolutionary, new high-definition optic designed in Texas by hunters, for hunters.
The advanced 1920x1080 HD sensor provides full-color clarity in daytime; simply hit the left arrow to enable night mode – with classic emerald or black and white viewing options. An included 850nm IR illuminator provides enhanced image brightness and accurate target acquisition to an astounding 200 yards. Notably, the IR is removeable for hunters who live in states where emitted light is illegal.
The Wraith allows (and Sightmark encourages) on-board recording and video export so your favorite moments can be shared with your friends and family on your favorite social media platform.
The Wraith also includes:
Memory slot for up to 64GB storage
Customizability, with 10 reticle options and 9 color choices
4 hours of battery life from 4 common AAs
MicroUSB port for external power
4-32 optical magnification; 1-8x digital zoom
Visit Facebook, Twitter, Instagram and YouTube to learn more about Sightmark® products.
About Sightmark®
Sightmark manufactures award-winning products including riflescopes, gun sights, laser sights, night vision, flashlights, bore sights and other cutting edge, premium shooting accessories. Inspired by military and law enforcement technology, Sightmark products are designed for competition, shooting, home defense, personal safety and other tactical applications, as well as hunting. For more information about Sightmark products, visit www.sightmark.com. For media requests related to Sightmark, please email mediarelations@sightmark.com.

Request more info from Sightmark
Thank You!