Colt: The legend lives on... in the 1911 'Rail' Gun
Part One: I'm clearly prejudiced, but I think Colt is still cool!
---
I do not own stock in Colt Manufacturing, nor is the company paying me to write this review.  However, I plead guilty to being a life-long admirer of all things Colt.  For example, the first pistol I owned was a Colt series 70 Government Model .45.  I went through the NRA Law Enforcement Firearms Instructor school in 1978 using a Colt Trooper .357.  Not the Trooper Mark III, but an older model built on their leaf-spring "E" frame which would eventually be fitted with a vent-rib barrel and become the legendary Python — arguably the finest revolver ever made.
As an example of their handgun lineup, Colt recently sent me their Catalog #O1070RG Stainless Steel Rail Gun.  This modern variant of the tried and true five-inch John Browning design includes a short section of Picatinny rail on the bottom of the frame's dust cover for mounting a flashlight and/or laser sighting system.  Among others, SWAT and K9 cops benefit from having a sidearm with an integral flashlight, since they may need one hand free to deal with dog leads or other equipment.
Since the 1911 pattern pistol is without a doubt the most "refined" and customized design of all time, we can always nit-pick a factory production pistol.  The trigger on the Rail Gun broke very crisp and clean at 5 ¼ pounds; a couple of pounds more than I like, but easily fixed.  The ambidextrous thumb safety was a bit sticky and the bevel in the mouth of the magazine well was minimal.  A couple of my police firearms instructor buddies played with the Colt Rail Gun and frankly, were not impressed.  But, you must remember those guys, like me, carry hand-built 1911 sidearms.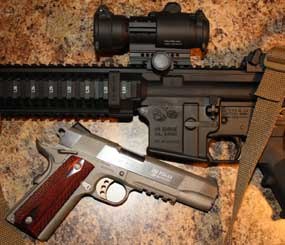 While I didn't formally group the test pistol over sandbags, it clearly had more than adequate combat accuracy, and my 1911 buddies agreed.  The Rail Gun perfectly fed every type of ammo I had on hand, ranging from lead SWC target loads to wide-mouthed +P hollow points.  The Novak 3-dot sights are large and visible, but I personally insist on night sights. The front strap is stock-smooth, so I would get some 25-30 lines per inch checkering cut in and lower the trigger weight.  See how we "1911 guys" think?  Actually, the Colt Rail Gun is fit for duty right out of the box.
The model O1070RG Rail Gun features stainless steel construction and is competitively priced with a MSRP of $1,087.00 
Two other Rail Gun variations are available with a blackened frame or a fully-blackened model (for an extra charge).
If you're in the market for a 1911 pistol or M4 carbine, put Colt on your short list to consider — nobody has been building 1911 pistols or AR-pattern rifles longer.  Colt has even re-introduced their little .380 Mustang to go after the CCW/LEOSA pocket pistol market. 
But their coolest idea, and one I hope to test soon, is the LE901-16S rifle in their 2012 catalog — a 7.62 NATO "AR10" size 16-inch carbine that will accept a 5.56 mm upper to fill both patrol and heavy-caliber Designated Marksman roles! 
Check this space tomorrow morning (and in the PoliceOne Quarterly Firearms Newsletter going out tomorrow) for the companion "part two" of this column in which I will be reviewing the Colt M4 Advanced Law Enforcement Carbine. 
I'm clearly prejudiced, but I think Colt is still cool!