Finnish police officers to get submachine guns
A Finnish news agency said the country's more than 7,000 police officers will soon have submachine guns
---
By Jan M. Olsen 
Associated Press
COPENHAGEN, Denmark — Police in Finland released a third suspect Friday in a fatal stabbing attack allegedly carried out by a Moroccan asylum-seeker, a development that came hours after the Nordic country's news agency said officers will be issued MP5 submachine guns in addition to their normal equipment.
The released man was arrested a week ago on suspicion of helping plan the Aug. 18 attack that killed two people and injured eight, the National Bureau of Investigation said.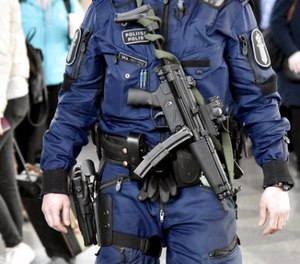 Two other Moroccans who also had been detained as suspects were released earlier this week.
None of them still are considered suspects, the bureau said.
The main suspect — a Moroccan asylum-seeker whose application was denied — is being held on suspicion of murder and attempted murder with terrorist intent.
Investigators said he had become radicalized, but did not elaborate. He also had given a false name and age when he first was interviewed.
Investigators have said they weren't aware of a motive for the attack in southwestern Finland, but that it appeared to target women.
Earlier in the day, Finnish news agency STT said the country's more than 7,000 police officers soon will have submachine guns. A top police official cited the increased terror threat is the main reason for the upgrade.
Ari Alanen of Finland's top police body told STT on Friday that "we must increasingly consider the weapons we need to take with us."
No one with the National Police Board was immediately available for comment. No details were immediately available on when the weapons would be handed out.
In June, Finland's security agency raised its threat assessment to the second level on a four-step scale.
Copyright Associated Press. All rights reserved. This material may not be published, broadcast, rewritten, or redistributed.

Request product info from top Police Firearms companies
Thank You!