How does Glock reliability stack up against fallible .22lr?
A review of the Glock G44, the role of which is potentially much larger than some might imagine
---
On January 20 Glock will begin selling its vaunted G44, a .22 long rifle pistol that is otherwise a replica for the respected G19. Back in December, I flew to the outskirts of Atlanta, Georgia, for the release. I've been testing the G44 ever since and have formed some opinions about the value and performance of Glock's newest arrival. The role of this gun is potentially much larger than some might imagine.
Commander's Intent
First off, this is not a duty pistol. I want to be clear about that and I do not think Glock ever intended it as such. Some of the media associated with the release implied it would be a good trail companion, enabling shooters to plink at will. I suspect this is partially true for nearly any .22lr gun. After running around 1,000 rounds through the G44, the appeal to me breaks down into a couple of categories – people who love to plink and newer shooters.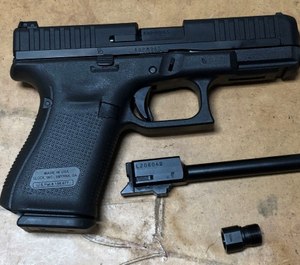 Shooting .22lr is a lot of fun and it is inexpensive compared to some ammunition. Recreationally, Glock is expanding into this market and it makes sense. The larger draw (in my humble opinion) is going to be people who are new to firearms. This includes law enforcement. 
Teaching firearms at a local academy, I've seen students come in who have never handled a gun before. Some new cadets might do well to start out with a 9mm, but others would benefit exponentially from beginning with the much tamer recoil and noise created by the rimfire cartridge. One of the greatest advantages to the G44 is that new shooters learn the functions of the Glock platform since the controls are the same, which makes transitioning into larger calibers a less daunting prospect.
Shady .22
Anyone who has spent time shooting .22lr knows the round has a bit of a reputation for being dirty and not always performing the way centerfire cartridges do. Depending on the quality of ammo you shoot, you might have one experience or another. Pick up some bargain bin .22lr for plinking and you will probably see a few completely fail to fire. It was a somewhat risky gambit for Glock to tackle the often-unreliable caliber. 
I tested the G44 using a few different brands of ammunition and spent a lot of time working through box after box. I also switched out the barrel for the threaded variety, attached the adapter, and fired several boxes of Gemtech subsonic ammo through a GM-22 suppressor to test the suppressed capability of the gun.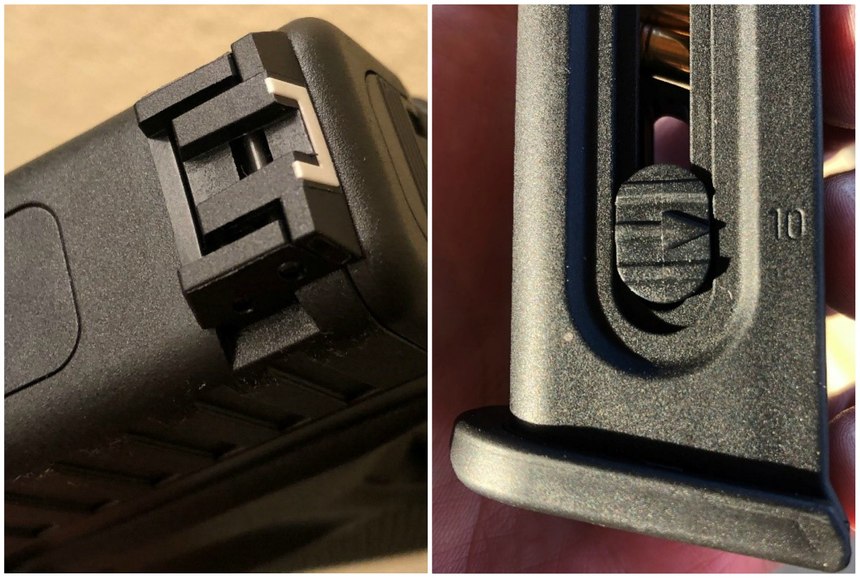 Results
Not completely surprising, the bulk of problems I had were simply rounds failing to detonate. Each time this occurred, I would eject the suspect cartridge and inspect it for good primer strike. I found good strikes had occurred in every instance. This, of course, is not a failure of the firearm. Occasionally, I ran into a scenario where the round did not have enough pop to properly cycle the slide and I would get a stovepipe malfunction. However, this only happened a couple of times.
The vast majority of the experience I had was continually loading the magazines and firing 10 rounds at my targets without any kind of issues whatsoever. I strongly believe your experience with the G44 is largely driven by what ammunition you feed it – in this case, CCI had zero failures over hundreds of rounds. The round count is a bit short at 10 but it is perfect if you consider the intent behind this pistol, get your mag exchange reps in. Robb Manning, author of the GLOCK Reference Guide, recently reported ProMag was already working on an extended magazine for the G44, expected to ship in early March.
I found the gun to be reliable and accurate. It was an absolute joy to shoot because the lack of recoil allowed me to keep my sights right where I wanted them. Accuracy was good too; I was creating impressive groups when I slowed down from the rapid-fire madness that became almost habitual. Again, all controls were the same so there were no surprises with the function of the gun. The only significant difference between the G44 and a Gen5 G19 is the weight. The G44, with a polymer slide and steel rails, weighs in at just over 14 ounces whereas the G19 is over 23 ounces.
Switching out the barrel for the threaded version was a piece of cake. The ½ x 28 adapter went right on and mated up nicely to the Gemtech GM-22 suppressor. After the first shot, the only sound was that of the action cycling. It was super quiet. The shortness of the GM-22 combined with the normal height of the adjustable sights on the G44 enabled me to still target perfectly.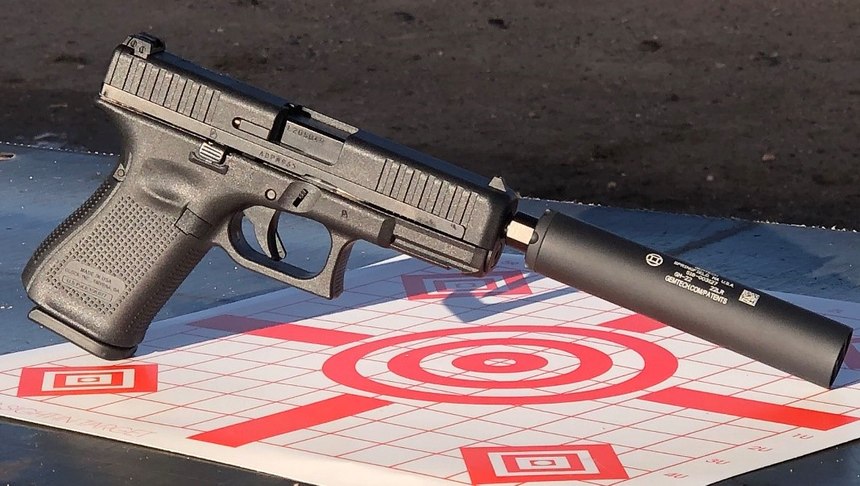 Winner
There are a lot of G19 holsters and mag holders out there just waiting for this gun. The price is going to be pretty reasonable, around $360 (street), so the logical argument comes down to justification of purpose because the performance is patently (ammo notwithstanding) Glock. Would you buy this gun to plink and have fun? Would you purchase this firearm to take your young nephew shooting for the first time? Would you, as an academy instructor, hand this weapon to a cadet and walk them through the fundamentals of shooting? Glock is reinvesting in the American shooter with the G44, helping us bridge a fine tradition to the generations that follow.
Special thanks to Liberty Firearms Institute who handles my transfers.
SHOT SHOW 2020
PoliceOne columnists will be checking out the latest firearms at SHOT Show 2020, scheduled for January 21-24 in Las Vegas, NV.
If you are going to SHOT Show, you can find Glock in Booth 13616. Also drop by the PoliceOne booth to say hello, learn how we've secured over $150 million for departments through our Grant Assistance Program, and pick up some P1 swag.

Request product info from top Police Firearms companies
Thank You!