SHOT Show 2012: Shooting the Springfield XD-S
---
During "Media Day" at SHOT Show 2012, I got to shoot some pretty awesome weapons — all of which I hope to eventually write about. To begin my series of short columns from Las Vegas, I want to let you know about a very surprising little gun from Springfield Armory. It's the Springfield Armory XD-S single-stack in .45 ACP, and it makes me seriously contemplate opening my wallet.
The thing that stuck in my mind as I got briefed before shooting the weapon was that it is light — it's 29 ounces with an empty magazine. I thought, "OK, a light little gun in .45 is going to be interesting for me" because I tend to not do well with that caliber in light-weight pistols. Man alive, was I wrong. There was very little felt-recoil in the gun, and even when I emptied magazine as fast as possible, I was steady on the targets downrange. The qualities I liked most about that firearm were twofold:
• Highly concealable
• Minimal recoil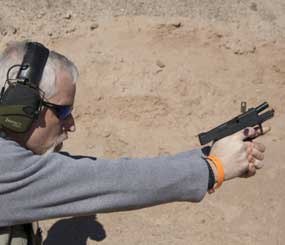 Easy Gun to Shoot
After just three shots, I was immediately comfortable with the gun. I fired a single, and then a quick pair, and in each instance the sights came right back down on target with ease — the somewhat aggressive grip angle probably had something to do with that. But also, I think the slide might be particularly light, reducing the slide-induced recoil I'd previously experienced in small-frame .45 pistols.
I stopped by the Springfield Armory booth today to get some more information and Dave Williams of Springfield Armory explained, "It's hard to get a gun that small to not recoil. ...the main thing is the way the barrel locks and unlocks."
Did I mention that this thing is little? It's very, very slim — at its widest point, it's not even one inch wide — so I see this as not only nice back-up but also a great off-duty weapon or a good gun for retired cops carrying under HR-218.
I asked Williams if the company had contemplated a strategy for getting the XD-S into the hands of LEOs, and quite frankly, I was surprised by his answer.
"We built this gun not really considering law-enforcement only. We were considering concealed carry, which covers everybody," said Williams when I visited with him this afternoon. "For a .45 it's super-thin, super-short, easily concealable, controllable, reliable, and durable, which is a perfect situation for concealed carry."
Williams didn't say it, so I will. If you're HR-218 CCW, the new XD-S from Springfield Armory is, in my humble estimation, a gun worth consideration.