SHOT Show 2012: The Colt Mustang Pocketlite is back
---
As you probably have gathered by this time, most law enforcement writers enjoy trying out the new products during "Media Day" at the range just prior to the official start of SHOT Show in Las Vegas. This year, I got to shoot the new Colt Mustang Pocketlite. Only a few firearms stood out during Media Day, and the Mustang Pocketlite was one of them.
The Mustang Pocketlite is a 6+1, 13.7 oz 380 ACP semi auto pistol with a stainless slide and alloy frame. Some 380s are too small to be manageable. Some are so big — defeating the purpose for the 380 cartrige. The Colt Mustang Pocketlite has a similar grip angle and feels like its bigger brother, the Colt Gold Cup.
The Mustang Pocketlite is a single action handgun, meaning the hammer must be in its rearward position, "cocked and locked", in order for it to fire. I prefer this because the trigger pull is consistent shot-to-shot.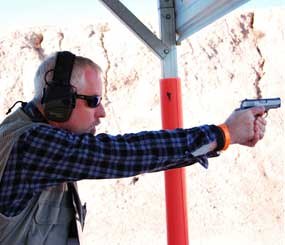 Colt quit making the Mustang Pocketlite a few years ago. I'm glad it's back. A friend carried one in his vest and I had a chance to shoot his quite a bit when we practiced on the range.
I started this shooting session out with a few controlled pairs. The range had steel targets and the clanging was reassuring.
With a Colt Mustang Pocketlite, I was able to shoot combat-accurate controlled pairs (some call these "doubletaps") of Hornady XTP 90 grain XTP cartridges, which run about 1,000 FPS. This is effective for a gun that doesn't even weigh a pound completely loaded.
The Colt Mustang is back, and it's better.