Cicero Police Department Receives Patrol Rifle Grant From The Spirit of Blue Foundation
---
SYRACUSE, NEW YORK – June, 2016 – The Spirit of Blue Foundation announced that it has awarded a Safety Equipment Grant to the Cicero Police Department (CPD) for the acquisition of three AR-15 style rifles and essential accessories, valued at $9,065.43. The rifles constitute the creation of the CPD's patrol rifle program, a capability they do not currently have, for the protection of its officers. CPD Officers will be trained in their use and the rifles and accessories will be staged in patrol cars for deployment.

"These rifles will be a great asset to the Department and the community. It is important that we are prepared to respond to critical incidents with the proper equipment," commented Chief Joseph Snell of the Cicero Police Department. "Having the proper equipment and resources provides a higher level of safety for our Officers and the residents of Cicero."

The CQB16 rifles were generously donated by premier rifle manufacturer LMT Defense, which was founded in 1980 to provide the US Military, law enforcement and government agencies with precision engineered, high quality weapons. Since that time LMT Defense has gone on to distribute its product to militaries, national police agencies and VIP protection details in 43 nations around the world. Each rifle will come complete with an EOTech Holographic Weapon Sight, Magpul Back-Up Sights and five 30-round PMAG ammunition magazines, a Blue Force Gear Ten-Speed Chest Rig and VCAS weapon sling, all donated by their respective manufacturers.

"At the most basic level a rifle is a tool, and these are tools that any modern law enforcement agency must have to protect its officers and the residents they serve," explained Ryan T. Smith, Executive Director of the Spirit of Blue Foundation. "We are pleased to be able provide these tools to the Cicero Police Department and we are grateful to our many safety grant sponsors who donated their great products to make this grant possible."
Statistics preliminarily released by the National Law Enforcement Officers Memorial Fund show that 44 law enforcement officers have already lost their lives in 2016, a decrease of 8% so far from the prior year. But 20 of those deaths were firearm related, a 25% increase over the same period in 2015. The reality of these statistics, and the increasing number of underfunded law enforcement agencies across the country, fuel the Spirit of Blue safety grant initiative.

The Spirit of Blue Foundation actively encourages the public at large to honor and appreciate law enforcement officers who serve to protect our communities. By supporting the Spirit of Blue Foundation, the public can make an impact in the lives of law enforcement officers every day. To learn more about the Spirit of Blue, or make a donation, visit www.spiritofblue.com.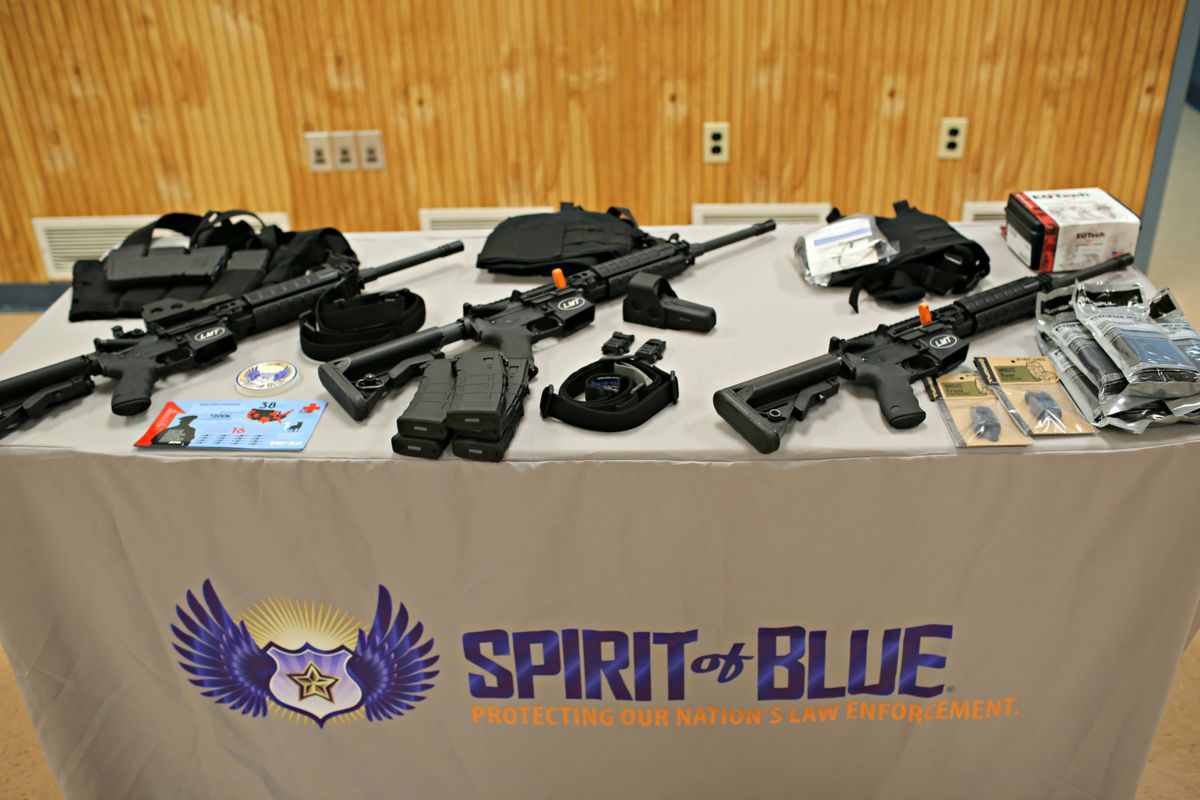 Spirit of Blue presented the Cicero Police Department three LMT Defense rifles along with essential accessories to start their patrol rifle program. Receiving the grant was Town Councilor Mike Becallo; Town Supervisor Mark Venesky; Sergeant James Snell; and Chief Joseph Snell (left to right). The grant was presented by Spirit of Blue Executive Director Ryan T. Smith (center).

About The Spirit of Blue Foundation
The Spirit of Blue Foundation, based out of Chicago, IL, is a 501(c)(3) public charity dedicated to the enhancement of officer safety and vitality throughout the law enforcement community by promoting public awareness for their protection and fulfilling safety equipment and training needs. The Spirit of Blue Foundation develops and executes fundraising campaigns nationally with the support of partner non-profits, national retailers and safety equipment manufacturers. Fundraising proceeds are distributed in the form of Safety Equipment and Training Grants to law enforcement agencies across the country from local to federal levels. Since 2011 the Foundation has awarded 39 grants valued at nearly $200,000.