FNH USA, LLC Announces Launch of New .45 Caliber Pistol
---
McLean, VA – FNH USA, LLC is pleased to announce the release of the FNX-45, a double-action/single-action hammer-driven pistol with highly enhanced ergonomics.  This handgun is the latest addition to the company's ever-popular FNX line of autoloading pistols and is made in Columbia, SC by FN Manufacturing, Inc.  As of today, initial shipments are en route to dealers nationwide.
"We are pleased to announce the release of the FNX-45, which is the culmination of years of innovative product development and advanced engineering techniques," said Ken Pfau, Senior Vice President of Commercial and Law Enforcement Sales for FNH USA. "This handgun was modeled after the FNP-45 service pistol originally introduced in 2007 under the U.S. Joint Combat Pistol Program.  With the FNX-45, FN has combined all of the great features our customers love about our FNP product line with the reliability, performance and ergonomics our FNX line is known for."
The FNX-45 is fully ambidextrous and is available in matte black with a stainless steel barrel or flat dark earth with a matte black barrel.  Both slides and barrels are stainless steel.  It comes with a 15-round magazine and multiple interchangeable backstraps with lanyard eyelet and a MIL-STD 1913 mounting rail on the underside accepts tactical lights and lasers.  Manufacturer's suggested retail price (MSRP) is $809.00.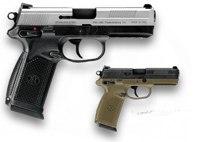 For more information about the FNX-45 or other FN products, please visit www.fnhusa.com or the FNH USA Facebook Fan Page.
FNH USA, LLC is a U.S. subsidiary of FN Herstal S.A., a global leader in the development and manufacturing of high-quality, reliable firearms for military, law enforcement and commercial customers. A pioneer in innovative firearm technology since the days of John M. Browning, the company supplies a variety of products to customers in more than 100 countries worldwide. Based in McLean, VA with manufacturing operations in Columbia, SC, FNH USA is responsible for all U.S.-based sales, marketing and government relations efforts.