How the XWT changed firearm training
The XWT cleared the way for modern shooting training and stands to support future innovations
---
The following is paid content sponsored by Meggitt Training Systems
By Sean Curtis for PoliceOne BrandFocus
The Meggitt Training Systems XWT target carrier is a star player in the company's host of shooting solutions.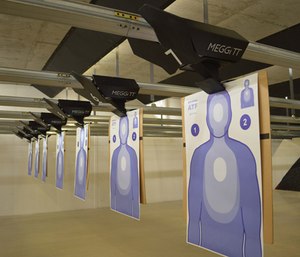 The XWT has a design with a mindful bend toward ease of use and maintenance, as well as improving shooting skills. To learn more about the XWT, I spoke to Jonathan Read, the company's vice president of Live Fire Systems.
History of innovation
Meggitt Training Systems has a history of setting trends in the shooting world, and target carriers are no exception.
The previous cabled systems of the past were effective, but prone to high maintenance and upkeep. Inevitably, the cable would break due to overuse or being shot. This would shut down an entire lane—likely the entire range—while someone repaired the cable through splicing or replacement.
Meggitt's solution was simple—in keeping with the rail system, use radio-controlled motorized carriers to run up and down the rails. Meggitt was the first to bring this technology to market and has successfully implemented it for years in law enforcement, military and commercial ranges.
This technology was years ahead of the cabled carriers of the past and eliminated much of the unneeded downtime required for maintenance and repair.
A closed track system
A wireless system is impressive in and of itself, but Meggitt Training Systems has used the XWT as a platform to build in additional improvements, becoming the world's first wireless target carrier.
This includes removing cables, which is visionary. Having recently used cabled carriers I have noted how they sometimes push the armature and cant targets at odd angles. They also hang up, getting stuck at the seven-yard line because of errant brass.
The XWT has streamlined the rails with their closed track system, which keeps out lead, casings and any other debris.
In addition, there are no track-mounted power lines to be damaged. This lessens costly repairs and range down time.
Without cables, you might wonder how the XWT gets up and down range. Meggitt installed quiet, dual-motored, direct drives in each carrier.
The electric motors and drive provide speed control options, which enable more dynamic choices for advance/retreat scenarios.
These motors provide that realism of training. They also run on internal batteries, slickly recharging when the carriers return to the station.
360 degree training
Adding to the potential realism of training, the carriers are able to rotate 360 degrees.
This includes capabilities for targets to face, blade, and back, allowing trainers to use both sides to change the target and threat dynamics.
Imagine the scenario above where the target approaches slowly with no knife. In less than a second, the target can flip to the backside where trainers have the same target with a knife displayed. This quick action hones training skills for real life scenarios.
Real-life scenarios
This and many other scenarios can be programmed into the XWT.
Shooters and instructors can interface with the XWT through a couple of different options. Individual lane controllers or a master control computer both allow users to run basic to complex programs.
Users select from a wide range of programming; basic qualifications to decisional- and reactive- type scenarios can all be run from the control panel. This enables the XWT to provide anything from fundamental marksmanship training to high-end, shoot-don't-shoot scenarios.
A ruggedized version
The line also includes a system that is hardened for the outdoors, enabling the system to handle extremes of weather, wind and other environmental conditions.
Read said many agencies use outdoor ranges and mentioned they have sold this hardy arrangement to several specials operations units.
Future XWT innovations
He said Meggitt Training Systems is driven to provide better training to police, military, special operations, and security forces. 
Read mentioned the importance of training, particularly for officers in the field. He alluded to a new development for the XWT. He did not give a strict timeline, but teased that a prototype might make an appearance at SHOT Show 2017.
He also hinted there may be a tie in with virtual training, including shot detection. A camera setup would also be an add-on to existing XWT systems.
Like the iron horse replaced the old nag, the XWT cleared the way for modern shooting training; cutting cables, wires, and limitations as it went. With its modern functions and greatly expanded capabilities, it stands to support future innovations only limited by the imagination.
For more information about the XWT, visit Meggitt Training Systems.