National Law Enforcement Museum to host program recognizing 10-Year anniversary of heroism
---
Viewpoint Virtual Happy Hour: Reflections on the 2010 West Memphis Shooting with Sheriff Mike Neal will be a virtual program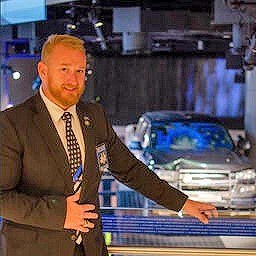 WASHINGTON—On Wednesday, May 20, at 6pm EDT, the National Law Enforcement Memorial and Museum will host a virtual program in recognition of the 10th anniversary of the heroic ending of a lethal gun battle in West Memphis, Arkansas. The program will feature an interview of Sheriff Michael K. ("Mike") Neal by Jonathan Thompson, Executive Director of National Sheriffs' Association. Included in the program is a virtual reception, with food and drink demonstrations from prominent Memphis culinary destinations.
Exactly ten years prior, Mike Neal, then a wildlife officer, made the critical decision to put his state truck between the suspects' van and police sedans in the middle of a lethal shootout. Just 90 minutes earlier, the suspects had fatally shot two officers during a traffic stop and fled that scene.
Sheriff Neal has received numerous awards as a result of his actions in this event, including three Medals of Valor, the 2011 International Officer of the Year, and the Congressional Medal of Valor from the President of the United States in 2012.
The wildlife truck from that day is now on permanent display at the National Law Enforcement Museum in Washington, DC.
"As our Museum continues our mission to provide a 'walk in the shoes' law enforcement experience to the public, we continue to leverage virtual technology to engage with our constituents," said National Law Enforcement Officers Memorial Fund CEO Marcia Ferranto. "We are honored to be able to pay tribute to this modern-day hero and commemorate this event. With all the challenges we are facing during this health crisis, it is all that more important to raise a toast, enjoy some good food, and celebrate the successes."
The event will be live streamed via Zoom. The public and the press are invited to hear this exciting story of a memorable day in law enforcement and participate in the gourmet food demonstrations designed to highlight and honor the locale of the incident. Event registrants are being sent ingredients ahead of the program should they want to practice the cocktail and meal preparation in real time.
Host
Jonathan Thompson, Executive Director, National Sheriffs' Association
Guest of Honor
Michael K. Neal, Sheriff, Monroe County, Arkansas
Demonstrations from Hospitality Guests
Cocktail: Grapefruit Smash by Drew Wooten, Hospitality Manager, Old Dominick Distillery
Entree: Cured and Smoked Pork Belly by Josh Steiner, Head Chef/Owner, Strano by Chef Josh
Dessert: The Perfect Pudding (Pot de Creme) by Phillip Ashley Rix, President and Chocolatier, Phillip Ashley Chocolates
This "Viewpoint Virtual Happy Hour" is made possible by Thomson Reuters.
The public is invited to attend with a $15 registration which can be accessed here.
For media access, please contact Mary Petto at mpetto@nleomf.org or 202-737-7130
About the National Law Enforcement Memorial and Museum
Authorized by Congress in 2000, the 57,000-square-foot National Law Enforcement Museum at the Motorola Solutions Foundation Building tells the story of American law enforcement by providing visitors a "walk in the shoes" experience along with educational journeys, immersive exhibitions, and insightful programs. The Museum is an initiative of the National Law Enforcement Officers Memorial Fund, a 501(c)(3) organization established in 1984. For more information about the National Law Enforcement Museum, visit LawEnforcementMuseum.org. The adjacent National Law Enforcement Officers Memorial contains the names of 22,217 officers who have died in the line of duty throughout U.S. history.

Request more info from National Law Enforcement Officer's Memorial Fund (NLEOMF)
Thank You!