ICS-JMR adds Media MASSter Solo-102 Pro Forensic to Solo Product Family
---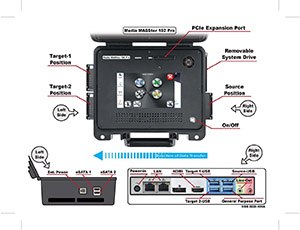 Chatsworth, Calif – Intelligent Computer Solutions Inc. (ICS), a business unit of JMR Electronics and the pioneering leader of disk drive duplication and computer forensic systems, announced today it has added the Media MASSter™ Solo-102 PRO Forensic to its Solo series of forensic and IT acquisition, analysis and duplication tools.
The Media MASSter Solo-102 PRO Forensic unit is an economical, high speed, SATA-3 and USB 3.0 Handheld Data Acquisition, Analysis and Duplication device, designed as a low-cost forensic analysis solution without sacrificing performance, versatility and ruggedness. The Media MASSter Solo-102 PRO Forensic unit offers a high-end Intel Processor and advanced High Speed 6 Gb/s drive controller technology, providing higher performance for Forensic Data Acquisition and Analysis Operations. The unit can acquire data from one Suspect to multiple Evidence drives at speeds over 20 GB/min using SATA-3 drives. Using the unit's 4 built-in USB 3.0 ports and 2 eSATA ports, additional SATA drives can be connected with optional adapters. In addition, the Media MASSter Solo-102 PRO offers a unique 4-lane PCIe Expansion Port and optional M.2 Adapter Modules, allowing it to acquire data from a PCIe M.2 storage devices to other PCIe M.2 devices at speeds exceeding 65 GB/min.
The Media MASSter Solo-102 PRO Forensic unit's key features includes cable-free source and target drive caddies, support for optional expandable modules such as SCSI, PCIe M.2, SAS and Firewire and support for Hashing and Data Encryption Capture Suspect drive's data in LinuxDD, E01 or EX01 Segmented File Format or as a "mirror" capture. The Forensic device is designed with a slide out system drive for easy removal. The device is also configured with a 1Gbit Ethernet port for network connectivity.
Media MASSter Solo-102 PRO Forensic Feature Highlights:
• Multiple Operational Modes: Including Single Capture; LinuxDD Capture stores one or multiple Suspect drive images on a single "Evidence" drive using the standard Linux DD Segmented File Format; E01 Capture stores one or multiple Suspect drive images on a single "Evidence" drive using the Encase® Forensics Segmented File Formats E01 and EX01; optional Non-Forensic Format used to capture only the allocated data of a Suspect's drive, greatly reducing the time required to capture data. In addition, the unit can be used to duplicate drives for IT purposes such as backup, deploy and upgrade to larger capacity drives; sanitize drives using Single Pass or DoD Standard; last, the device has the ability to capture and wipe hidden HPA or DCO areas which may exist on hard drives.
• Multi-Op Mode: Allows seizing in LinuxDD or E01 and Single Capture formats in one operation using the same Suspect drive.
• Multiple Hash Verification Methods: Supports SHA-1 and SHA-2 Hash Acceleration and Software based MD5 Hashing.
• External Storage: Images can be stored externally to a shared network folder, e-SATA drive, USB drive or an ICS DFSS External Storage Module.
• "On the fly" Drive Image Encryption: Option utilizing the built-in AES 256 Encryption Technology, the device encrypts with minimal speed degradation all digital data during the Cloning Process for the purpose of safeguarding sensitive information.
• ICS Digital Forensic Storage Solutions (DFSS): The Media MASSter™ Solo-4 Forensic PRO Slim supports the use of the Optional ICS DFSS Modules to provide additional storage capacity.
• LinkMASSter Option: This LinkMASSter option allows the Forensic Investigator to acquire data from unopened computers using the Ethernet interface.
• Preview Suspect Data: Preview Suspect drive's data utilizing third party applications or using the unit's built-in O/S utilities. The device's preview capability allows previewing Word, Excel, PDF, text or multimedia (pictures, video and audio) files prior to seizing data.
• Logs and Auditing: Store and print detail operational Event Log and Audit Trail information. The Audit Trail is saved in a PDF format using 128-bit password encryption protection.
• Cell Phone Acquisition Support: The device can be used to acquire cell phone data utilizing optional 3rd party cell phone acquisition software and hardware solutions. It also supports the Micro Systemation XRY and Paraben's Device Seizure Cell Phone Acquisition Solutions.
• Convenient and Easy Upgrades: Easily updates software through the USB port. Free Software Updates are provided periodically.
• High Resolution 7" Full Color Touch screen: Built-in touch screen eliminates the need of connecting an external monitor, mouse or keyboard.
• Image Restore: Restore a previously captured DD or E01 Image to a fully bootable 100% working copy.
About ICS

ICS is a pioneering leader of disk drive duplication and computer forensic solutions. Since 1990, their patented automatic hard drive formatting and software pre-loading solutions have become the de-facto standard for most PC manufacturers and system integrators. Additionally, ICS is a globally recognized leader and supplier of computer forensic systems for law enforcement personnel ranging from local police departments to Federal and International agencies. Today, government agencies worldwide consistently use and depend on ICS's products. For further information, please visit www.ics-iq.com, or call 818-993-4801.
About JMR Electronics

JMR is a leading value provider and systems integrator of scalable storage systems for high performance and capacity driven applications for multiple markets including; video and post-production, military and government, education, VOD, DCC, gaming, security, medical imaging, HPC, and Web 2.0. Since 1982, JMR's reliable and innovative RAID systems are proudly made in the U.S.A., manufactured entirely from their Chatsworth, California facilities. JMR's complete line of affordable Lightning™ storage products; SilverStor™ SMB focused products, and BlueStor™ Cloud-ready rackmount and desktop solutions are built to handle the most demanding project needs for A/V centric markets. Reliability. Innovation. Performance. This is JMR. For further information, please visit www.jmr.com.