DNA tagging system marks criminals for weeks
A British security company has launched a new device that deploys a non-lethal pellet that marks its target for several weeks
---
Editor's Note: When I first read about the SelectaDNA High Velocity Tagging System for "marking" suspects so they may be safely "apprehended at a less confrontational time" I thought it was a joke. While my first reaction to this thing was laughter, once I began giving it serious thought, my second reaction was to speculate about potential Fourth Amendment issues. In particular, I wondered about Graham v. Connor and the reasonableness language of the Fourth Amendment. Check out my commentary, UK's DNA marking gun: Stop, or I'll say stop again!
— Doug Wyllie, PoliceOne Editor in Chief
By PoliceOne Staff
A British security company has launched a new device that deploys a non-lethal pellet that marks its target for several weeks.
Available in rifle or pistol form, the SelectaDNA High Velocity Tagging system is ideal for police who want to stay a safe distance away from a subject, so that they may be apprehended at a less confrontational time for officers, according to the company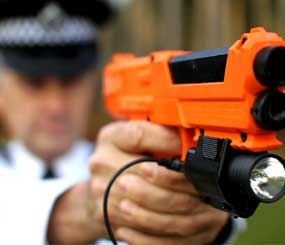 The one-gram pellet, designed by Selectamark, travels 30-40 meters accurately, carrying a unique DNA code that remains on the subject for weeks.
"On contact with the target, the uniquely-coded SelectaDNA solution leaves a synthetic DNA trace mark that will enable the relevant authorities to confirm or eliminate that person from their involvement in a particular situation and could ultimately lead to arrest and prosecution," Selectamark Managing Director Andrew Knights said.