How to collect scene evidence using your smartphone or tablet
Check out SceneDoc, a secure mobile evidence system for Android or IOS devices
---
The following is paid content sponsored by SceneDoc.
By PoliceOne BrandFocus Staff
Collecting data at a scene can be done more precisely when officers use incident documenting software. That's why agencies should invest in SceneDoc, a Web-based application that allows users to accurately and consistently documentation crime, accident and other incident scenes.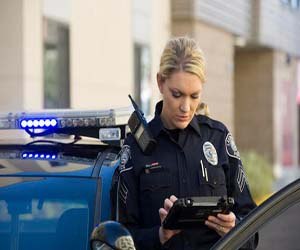 What is it?
SceneDoc was developed to be an easy-to-access application that helps officers document scenes, whether that is an accident, an incident or a highly complex crime scene," said Alex Kottoor, CEO.
"SceneDoc is the proven solution of choice for governments and enterprises around the globe," Kottoor said.
The 'mobile first' application lets the officer document a scene using built-in notation tools. The officer uses their personal mobile device to document the scene. With the touch of a button, Officers can generate a report on the fly—meaning no more running back to the vehicle or the precinct.
As an officer collects information at a scene, the information is being replicated in real time by SceneDoc and secured remotely on a cloud server, Kottoor said.
"They can process the scene, hit a button and share [evidence] with command through their replication to the server or generate a secure link to gain access to that file," he said.
What kind of data can be collected?
SceneDoc provides a myriad of tools for collecting data, from user-friendly forms to digital notepads for more accurate annotations.
Incident data can be collected using the forms and provisioning system features. Customers have the flexibility to rebuild agency forms in a mobile friendly way and keep it in the same format officers are accustom to.
"We want our agencies to be able to preserve their process," Kottoor said. "A user can take their mobile device out and fill out a form and it will look like the document they are used to seeing every day."
A digital notepad also lets users annotate on digital photos as they capture them in near real-time. Officers no longer have to depend on their memory to update information during the evidence processing and report writing process hours later, Kottoor said.
The application uses layers to capture evidence using metatag and GPS data, so the original image is preserved. Annotating data and preserving the original image minimizes the risk of human error, Kottoor said.
"If you have hundreds of images, and annotate when you get back to the precinct, you may miss something of importance," Kottoor said. "So digitally annotated photos and multimedia files provide valuable context to the reader."
In addition, audio and video can be transmitted securely in near real-time. This provides decision makers with better situational awareness, Kottoor said.
"It can help agencies reallocate resources," he said. "It can also be shared with those headed to the scene so they know what they are facing prior to arriving."
Is it secure?
Security is of the utmost importance to ensure evidence is preserved. SceneDoc takes this seriously. It hosts all of the data collected through its web-based interface on a FBI CJIS-compliant data center provider.
"All the data is encrypted at rest and in transit," Kottoor said.
A CJIS-compliant certification means SceneDoc meets a set of industry approved standards that ensures data is secure. This is important to preserve the evidence and keep it safe from tampering.
To secure data even further, two-factor authenticate is required to transmit and access data remotely from the cloud.  Kottoor said the secondary authentication can be decided by the agency, but it is a step taken after a user name and password are provided.
"If someone steals a cop's mobile device they will need that two-factor authenticate to get into the system," he said. "So they won't have access to evidence on that device without it."
To add another layer of security on the device, once a user completes their processing of evidence in SceneDoc, the data doesn't reside on the device anymore. It only is accessible on the server.
Finally, the application keeps data collected by the user compartmentalized on their mobile device. This means no data generated using SceneDoc comingles with other data on the device.
"Our containerization methods prevent digital evidence from residing, for example, in the same camera roll housing our family's fishing trip last weekend," Kottoor said.
All of that secure data then can be stored on the cloud or deployed behind an agency's firewall.
"Data doesn't need to reside in the cloud," Kottoor said. "When we founded the company we knew we had a robust backend but we were also aware of the requirement to drive data where agencies need it most."
To learn more information about SceneDoc, visit their website. 

Request information from SceneDoc
Thank You!