Peacekeeper Products Offer Secure-Lock Rotational Baton Holster
---
At the 114th Annual IACP (International Association of Chiefs of Police) Conference and Expo in New Orleans, LA; Peacekeeper Products International, LLC, introduces a new rotational holster that revolutionizes the holster industry and brings security and safety to Law Enforcement officer's world wide, www.PeacekeeperProducts.com
The Secure-Lock Rotational holster has been uniquely designed to rotate 30, 60, or 90 degrees from perpendicular, in either direction, by manually depressing a button at the top of the holster.  The holster locks in place once the button is released and the appropriate angle of the holster has been achieved.  Unlike other holsters that inadvertently move from one position to another after a few months of use, the Secure-Lock Rotational Holster is designed to keep your baton in the same position that you left it regardless of physical activity.
The Secure-Lock Rotational holster holds the baton securely and allows for efficient release.  Like all Peacekeeper holsters, the Secure-Lock allows for the insertion of the RCB expandable baton back in the holster in the expanded mode.  This feature allows an officer the ability to retain their baton safely in the expanded mode until the suspect is contained and it is safe and convenient to collapse.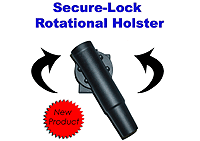 Features:
Convenient "On demand" positioning
Secure locking mechanism
Rotates 30, 60 or 90 degrees
Provides ability to Cross Draw baton
Slender design
Extremely Durable
Light weight
Snug fit for a secure baton
Baton won't inadvertently expand in holster
Ability to insert expanded baton in holster when necessary.
The unique design of the Secure-Lock also gives officers the option to move their baton away from their firearm if desired.  This gives officers the opportunity to place their baton on their non-dominant side and still draw on the baton with their dominant hand if desired.  This benefits officers by allowing for a rapid draw with out the necessity for transitioning their baton from one hand to another.

Request more product info from Peacekeeper International
Thank You!