Cash seizures made easy with JetScan iFX i100
The Cummins Allison JetScan iFX i100 currency scanner automatically identifies the denomination, records serial number data, and captures a two-sided digital image of every bill
---
You've just conducted a solid bust on a house under investigation for drug trafficking and a host of other illegal activities. Nobody was hurt in the raid, and the bad guys are hooked up and being transported to the booking room.
Evidence is abundant. You know this will make for an amazing "trophy photo" but you also know collection process is going to take most of the rest of the night. The worst — and simultaneously, in a way, the best — part of the scene is the cash. It's everywhere. There are the obligatory bricks of twenties, but regrettably, there are also bundles of bills in mixed denominations.
Enter: the Cummins Allison JetScan iFX i100 — a machine enabling a fast and accurate way to count mixed currency, record serial numbers, and create images of the loot.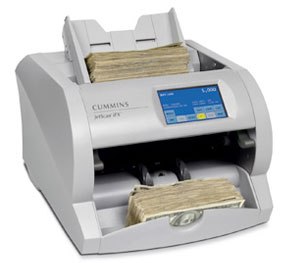 Automating a Time-Consuming Process
"Money seized during an arrest must be counted, sorted, scanned (or photocopied), then wrapped and stored in a safe or evidence room," explained Tim Esterbrook, director of national accounts for Cummins Allison. "This is often an immensely time-consuming and labor-intensive activity that still requires many agencies to count the cash by hand and photocopying each bill for evidentiary documentation."
The Cummins Allison JetScan iFX i100 currency scanner automatically identifies the denomination, records serial number data, and captures a two-sided digital image of every bill — doing so at an astounding 1,200 notes per minute.
"The JetScan iFX i100 make it possible for a single officer to count and properly document thousands of dollars in minutes, eliminating the need for multiple officers to spend hours counting cash by hand and photocopying each bill for evidence documentation," Esterbrook, said.
"The portability of the device allows it to be carried along to a crime scene to quickly document currency onsite, eliminating any doubts regarding the chain of evidence and saving time back at the station," Esterbrook added.
In addition to processing cash evidence more efficiently, the JetScan iFX i100 links with Cummins Allison Image Management Software (IMS) to manage digital images of seized currency. Officers can search for bills by serial number and instantly generate reports by case number, date or officer name. IMS also identifies matching serial numbers between buy money and seized money, providing a strong evidentiary chain.
Letting Investigators Investigate
The Pennsylvania Attorney General Bureau of Narcotics Investigation uses Cummins Allison JetScan iFX currency scanners to process money that is seized during an arrest.
The bureau identifies and prosecutes drug dealers and traffickers. The statewide agency is made up of eight regional offices with more than 300 agents working to shut down and arrest organizations that profit from illegal drug trade. Infiltration of drug trafficking organizations often requires agents to purchase drugs or pay informants with cash provided by the bureau.
The responsibility for counting the buy money — along with the seized currency — and capturing an image of every serial number and recording the text value of those serial numbers falls on the responsibility of agents.
Historically, this had tied up hours of their valuable time.
The Office of Attorney General rolled out nine Cummins Allison JetScan iFX currency scanners to support the Bureau of Narcotics Investigation offices throughout the state. The agents quickly realized the time savings associated with the JetScan iFX, which has saved hours of valuable labor and brought improved accuracy, counterfeit detection and more reliable evidence documentation to the Bureau of Narcotics Investigation.
Detecting Counterfeit Bills
Maricopa County (Ariz.) Sheriff's Office in Phoenix also uses the JetScan iFX, and in one instance was able to detect counterfeit bills during the processing of a $130,000 seizure from a drug bust.
The device kept stopping on notes it determined to be "suspect."
Knowing that counterfeits are rare in drug busts, deputies thought there was an issue with the machine.
Upon further examination of the suspect notes, the deputies discovered that many of the $100 bills bore the image of Abraham Lincoln, which would be on the $5 note, not the $100.
They found $30,000 in counterfeit bills.
Gaining Popularity in Police Work
This type of equipment — used for many years to improve the accuracy and speed of currency counting, sorting and documentation used in banks, casinos, and retail stores — is finding growing acceptance in the law enforcement community "and delivering benefits far beyond the technology investment," Esterbrook concluded.
To finance their purchase, some agencies have used seized cash proceeds, while others may have applied for Byrne Grant funds. Either way, the cost of the device is "less than many two-way radios" according to company literature.
For more information about Cummins Allison's currency scanners for the law enforcement community, visit cumminsallison.com/ifx.
Request information from Cummins Allison
Thank You!