Kustom Signals Advanced Tuning Fork Test Receives Domestic & International Patents
---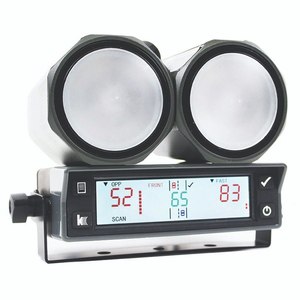 Lenexa, KS, August 21, 2019 – Kustom Signals, Inc., announces multi-country approval of the patent for the Advanced Tuning Fork feature included with the new Eagle 3 and Raptor RP-1 traffic RADAR systems. The feature has now received patents in the domestic US as well as Canada and an Innovation Patent Certificate in Australia.
The Advanced Fork Test Feature guides the operator through the tuning fork test process and greatly improves the ease, speed and accuracy of the tuning fork test. The feature takes the guess work out of the test process with the results clearly indicated on the front panel display. Additionally, the feature provides an agency with the option to require a successful periodic fork test be conducted before the RADAR can be placed into service.
"The Advanced Tuning Fork Test eliminates the need to perform multiple separate fork tests for stationary and moving operations with a one or two antenna RADAR system. The operator simply rings the low and high fork once for each antenna. The RADAR clearly displays the measured fork values and calculated results greatly reducing the time an officer may spend each day conducting fork tests without losing the accuracy or confidence of a traditional fork test," says Kent Hayes, Kustom Signals Speed Product Manager.
About Kustom Signals, your no risk partner:
Established in 1965, Kustom Signals, Inc., an MPD Inc. company, designs and manufactures a complete line of speed enforcement, speed awareness and in-car video systems for law enforcement agencies, along with the Contour (mapping laser) product line. For more information, visit www.KustomSignals.com
About MPD, Inc.
MPD, Inc. was established in 1987 and is headquartered in Owensboro, KY. MPD's customers include U.S. and foreign military services and their contractors, avionics manufacturers, law enforcement organizations, industrial companies and commercial concerns. For more information, visit www.mpdinc.com

Request more info from Kustom Signals Inc.
Thank You!