The evolution of the driver's license: How to validate 'Real IDs' and other documents
Before you can do a background check, you need to accurately authenticate an individual's identification through a driver's license or other ID
---
A key 9/11 Commission recommendation has resulted in state-issued enhanced driver's licenses with new barcodes and embedded RFID chips. While the new licenses are tougher to counterfeit, how is your agency supposed to deal with these updates?
Whenever an officer makes contact with an unknown individual, safety of both is important. One of the first pieces of knowledge is whether or not the individual is a known threat. You should watch for obvious signs of an imminent threat, but you also need to know their background. And before you can do a background check, you need to accurately authenticate an individual's identification through a driver's license or other ID.
Most states put samples of their documents on the internet (such as New York and Arkansas, for example) and more than one company publishes an annual with samples of all valid state IDs and what to look for. But are you really going to buy a copy every year for each staff member or have a driver wait while cops run an internet search? One device that can read licenses from any state, no matter what anti-fraud mechanism it uses would be a great idea.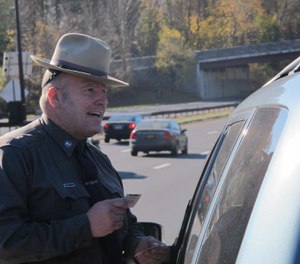 Cobble, cobble
You could cobble something together using a portable barcode scanner like they use at WalMart and Target and a mag stripe reader like the ones used by taxi drivers when you use a credit card. Either of these can display the encoded information on their own screen or on a connected smartphone. Once you have the information from the ID, you need to ensure that it is valid before you send it to CJIS or another criminal database to check on the holder. If you have cobbled a system together that means you either need to manually type the data, call it in to dispatch, or pay someone to write (and update) software to link the reader to the database.
The better choice
A much better method is to use a purpose-built hardware and software system that can read the ID's barcode or mag stripe, evaluate whether or not it is valid, and then send it on to NCIC with the push of a button. Once the information comes back and the officer decides what to do with it, the software could use the collected information to fill out the proper forms.
Most patrol cars have space for a notebook, so buying one with ID integration wouldn't force retraining or retrofitting the car.  If you have a requirement to ID a large number of people, such as during a demonstration, it's painful to bring a handful of IDs to the car to scan them. You could buy a second portable device which can be carried to the subjects, but this adds expense.
If you often need to ID a large number of subjects, you can consider a convertible laptop/tablet with integrated readers and software. This is the best of both worlds and can keep costs lower while keeping officers safe. Obviously, a portable device needs built-in cellular and/or Wi-Fi connectivity when it is removed from the car, so don't forget to look for that feature too.