Police: Droid phone app used in foiled robbery
Suspect used app to eavesdrop on emergency radio transmissions
---
Associated Press
MUNCIE, Ind.— A man accused of being the getaway driver in a foiled pharmacy robbery used a smart phone application to eavesdrop on emergency radio transmissions as he waited in his car, police said.
Muncie detective Jim Johnson told The Star Press that investigators wonder whether the suspect, 29-year-old Matthew Hale, knew to leave early by eavesdropping on their conversations and heard that a security guard in the store had captured his alleged cohort.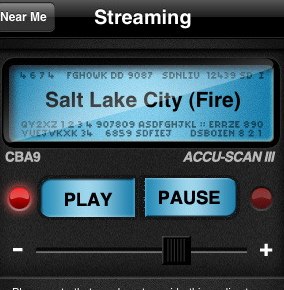 "That was his plan ... to sit there and listen to the police radio," Johnson said.
Hale was arrested Monday in a traffic stop after fleeing the scene. He's accused of acting as a getaway driver while Brian Franklin, 23, allegedly tried to rob Royale Pharmacy at gunpoint. A security guard thwarted the robbery by pulling his own weapon and detaining Franklin.
When police arrested Hale shortly after Franklin's arrest, they were surprised to hear their own voices coming from inside Hale's car.
Johnson said Hale used his Droid smart phone to download an application that allowed him to eavesdrop on emergency radio transmissions.
Franklin faces a preliminary charge of attempted armed robbery, while Hale faces preliminary charges of attempted armed robbery and unlawful use of a police radio, a Class B misdemeanor.
Both remained held without bond Wednesday at the Delaware County Jail in Muncie. A jail officer said records didn't indicate whether either man had an attorney or an initial court appearance scheduled.
Johnson said he believes a Smart phone with a scanner app would meet the legal definition of police radio in Indiana.
He said the robbery is an example of how advancements in technology have made it increasingly easy and cheap for would-be criminals to snoop on police.
Monitoring police radio frequencies in the commission of a crime is a technique probably as old as police radio itself, but in the past, it required using a portable scanner that cost hundreds of dollars.
Now the technology can be downloaded for $4.99 or less.
"It's so easy now," Johnson said.
Application developers say the overwhelming majority of the scanning app users are law abiding citizens. In fact, many of them are firefighters and paramedics, said Tod Hadley, CEO of Juicy Development, developer of Police Scanner and Police Scanner 2.
As a volunteer with the American Red Cross in Utah, he works regularly with emergency responders and frequently monitors radio traffic.
"We released it in the medical category for the purpose of first responders," he said. "That was the goal."
Hadley said several volunteer fire departments have equipped their crew with the app instead of buying much more expensive radios, but the success of the applications can mostly be traced back to curiosity among the general population.
Hadley said he expected the app would serve a "niche market," but within three days of the Police Scanner's 2009 release, so many people were requesting the application that the company's servers crashed.
Juicy Development's scanning applications have racked up about 100,000 sales in two years.
James Leung, developer of 5-0 Radio Police Scanner, said by email that his company, Smartest Apple, has been downloaded somewhere around 9 million times.
Both Leung and Hadley said they have worked to minimize abuse of the application by avoiding transmissions of SWAT and tactical channels.
Furthermore, Juicy Development has assisted in two police investigations, directing authorities to a logging feature in the software that records activity and can provide key evidence.
"We recognize there is a potential to be used by the criminal element," Hadley said. "We are trying to make sure that doesn't happen."
Copyright Associated Press. All rights reserved. This material may not be published, broadcast, rewritten, or redistributed.

Request product info from top Police Mobile Data companies
Thank You!