3 reasons why mobile documentation software is a must-have for crime scene investigators
Capturing crime scene information is becoming easier with crime scene documentation software for smart phones and tablets
---
The following is paid content sponsored by SceneDoc.
By PoliceOne BrandFocus Staff
Officers have had a challenge manually documenting physical and digital evidence after a crime has occurred. Amid a charged environment, they must be focused in order to meticulously and quickly gather, document and preserve evidence from the scene.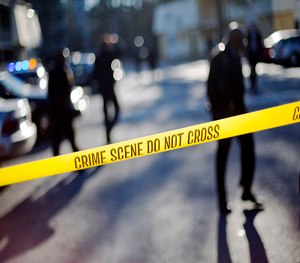 To make investigators' jobs easier and crime-scene reports more accurate, police agencies are investing in smartphones and tablets. The devices free officers from their vehicle-mounted laptops or desktop computers. When paired with innovative smartphones and tablets solutions, officers are allowed to collect data with better accuracy so they are more effective at their jobs.
Here are three reasons tablets and documentation software are becoming essential tools for today's crime scene investigator.
1. They let you document actions and observations.
Smartphone and tablet software solutions allow officers to document in ways they have never been able to do before. Crime scenes, accidents and incidents can now be documented in the street rather than in the vehicle or back at the station, said Alex Kottoor, CEO, SceneDoc. The company's SceneDoc Software Platform is a smartphone/tablet-based scene documentation system. The mobile-first platform lets officers document a scene using built-in notation tools, record audio and video files, take photos, complete electronic forms and then store the data securely in the cloud.
The data is stored on the cloud, so it's available immediately to authorized personnel.
"Officers can now generate reports on the fly, while also giving command real-time visibility into the activity at the scene," Kottoor said.
2. They let you sketch and annotate a digital image.
One of the best parts of using mobile solutions at the scene is the ability to take a picture, and then use documentation software  to capture, annotate and otherwise markup the digital image.
In the past, a digital photograph would be part of physical evidence and annotated by hand, sometimes ages after the incident occurred.
Now investigators no longer have to depend on their memory to update information during the evidence processing and report writing, hours after being on the scene, Kottoor said. This heightens accuracy and hardens the process.
Instead, the officer can take a picture of an area, create digital scene diagrams or markup photographs then share them electronically with other investigators or command staff using the cloud.
3. They let you preserve the chain of custody.
The evidence's chain of custody is a record of individuals who have had physical possession of the evidence.
Documentation is critical to maintain the integrity of the chain of custody, Kottoor said. Because a handheld device lets investigators immediately capture information or images into a software system in near real-time, fewer people handle the evidence.
The application also uses layers to capture evidence using metatag and GPS data, so the original image is preserved. Annotating data and preserving the original image minimizes the risk of human error and preserves the chain of custody as it tracks who uploaded, received, sent, shared and altered the image, he added.
"Using documentation software means a more secure chain of custody for the evidence collected," Kottoor said. "We know which user uploaded which piece of data when, from where and what device they used to do it."
These are only a few of the many reasons investigators use smart devices and documentation software to record a scene, protect evidence and share data. Every agency should consider these tools to help their officers be more effective in the field.
For more information, visit SceneDoc.

Request information from SceneDoc
Thank You!