How to buy vehicle equipment (eBook)
Download this PoliceOne vehicle equipment buying guide to learn key steps for product selection, purchasing and implementation
---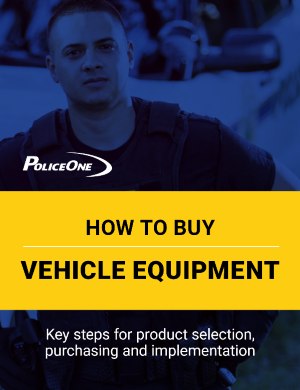 Today's police cruisers have tens of thousands of dollars of equipment in them, from advanced computer-driven trunk radios, to laptop and tablet computers, RADAR or LIDAR units, automated license plate readers (ALPR), 360-degree video cameras, Wi-Fi hotspots, enough firepower to take out multiple active shooters, vests with rifle plates, one or more stop the bleed and naloxone kits, and trunk-mounted storage systems to hold additional equipment such as weaponry, ammo, an AED and command post materials in supervisor's vehicles.
And not all police vehicles are cruisers. You also might be shopping for vehicles used for parking and code enforcement, community events, crime scene investigations and other assignments. Sometimes smaller, more fuel-efficient vehicles are warranted for these missions.
This PoliceOne guide to buying vehicle equipment – whether you are leading a purchase for the first time or looking to upgrade your department's vehicle equipment – is a starting point for the procurement process.
Included in this guide:
Key considerations before purchasing vehicle equipment
Questions to ask vehicle equipment vendors
To download your free copy of the "How to buy vehicle equipment" Buying Guide from PoliceOne fill out this form.
To download your free copy of "How to buy vehicle equipment (eBook)" Buying Guide from Police1, fill out this form.