Kustom Signals announces LaserCam® 4 LR now shipping
---
LENEXA, Kan. — Kustom Signals, Inc. is now shipping the LaserCam 4 LR for long range target tracking. The LaserCam 4 LR is an optical lens accessory that utilizes a tripod mounted yoke and a telephoto camera lens and doubles the operational distance at which the LaserCam 4can identify target registration plates and other offenses. The LaserCam 4 LR is able to provide video or photo evidence and identify European style registration plates up to 400 meters (1312 feet) at a much lower cost than competing solutions.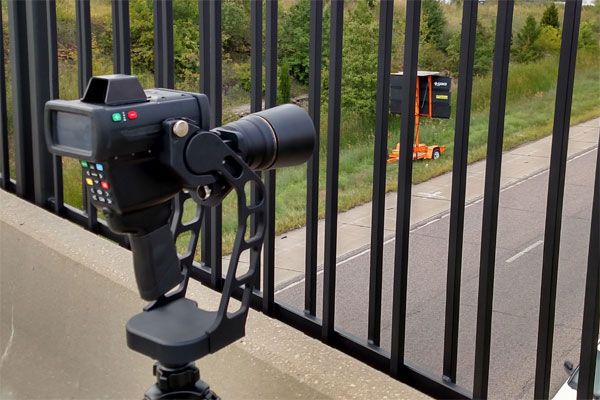 Powered by the award winning ProLaser® 4 for superior performance, LaserCam 4 offers greater range to target, faster acquisition time, and image resolution of plates at longer distances providing a comprehensive video record of tracking history.
With patent pending features including AutoTrak™, LaserCam 4 continually zooms with target tracking, optimizing target specific speed measurements and simplifying the user experience. The result is irrefutable video or photo speed enforcement evidence.
Key LaserCam 4 LR Features Summary:
Identify registration plates up to 400m (1312 ft)
Long range enforcement of speed, seat belt, distracted driving and more
AutoTrak™ optical zoom automatically tracks approaching and receding targets
User selectable post recording action for faster target to target measurement
Multiple speed thresholds to enforce different vehicle class posted limits
Automatic and Manual Video or Photo Modes for flexible and efficient evidence management
8.1 cm (3.2") glove friendly color touch screen
802.11 Wi-Fi file transfer
AES 256 encryption for added security during transfers
Certification notification & management
IR emitter for superior night-time video operation
30+ language settings supported
Bluetooth Wireless Printing (option) direct from LaserCam 4
About Kustom Signals, Your No Risk Partner:
Established in 1965, Kustom Signals, Inc., an MPD Inc. company, designs and manufactures a complete line of speed enforcement, speed awareness and in-car and body-worn video systems for law enforcement agencies, along with the Contour (mapping laser) product line. For more information, visit www.KustomSignals.com.
About MPD, Inc.
MPD, Inc. was established in 1987 and is headquartered in Owensboro, KY. MPD's customers include U.S. and foreign military services and their contractors, avionics manufacturers, law enforcement organizations, industrial companies and commercial concerns. For more information, visit www.mpdinc.com/home.htm.

Request more info from Kustom Signals Inc.
Thank You!