Stalker II Packages Dash-Mount Performance in a Hand-Held Radar
---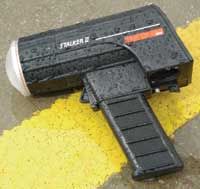 LOS ANGELES, CA. – Stalker Radar announced the release of the Stalker II, its new full-featured, hand-held direction-sensing speed enforcement radar, at the International Association of Chiefs of Police (IACP) 111th annual convention.
"The Stalker II has the range and performance of a dash-mounted radar in a versatile, hand-held package," according to Bob Gratz, Stalker Radar Vice-President of Sales. "In fact, the Stalker II can either be used as a dash-mounted radar in a patrol vehicle, or as a portable hand-held unit by a motorcycle officer," Gratz said.
"We've thoroughly updated our digital signal processing and direction sensing software and built in the capability to update the software in the field as necessary," Gratz continued. "That, combined with advanced manufacturing techniques, enables Stalker to deliver dash-mounted performance in a hand-held package that is significantly smaller and lighter than our previous hand-held units," he said.
The Stalker II is available as a Moving Directional Radar (MDR) or Stationary Directional Radar (SDR). Since it is direction sensing, the Stalker II can automatically distinguish slower same-lane targets in moving mode without a 'slower' key and can simultaneously track targets closing and going away.
"The Stalker II is packaged in a small, light-weight, die-cast metal case. It's water resistant and can be used in all weather conditions. In fact, we guarantee water resistance of the Stalker II in two feet of water," Gratz said.
"Plus, the Stalker II's digital signal processing software easily tracks smaller, faster targets among stronger target signals."
The Stalker II MDR features:

Automatic Same-Lane mode (no 'Slower' key)
VSS operation
VSS auto switching between moving and stationary mode
Removable, rechargeable battery handle
Direction sensing technology
Stronger and Faster display in all target modes
Faster target lock in all target modes
Video interface connector
Cordless remote control
Accessories include a sealed remote control; dash and motorcycle mounts; and motorcycle holster.
For more information on the Stalker II or other products from Stalker Radar, please visit www.stalkerradar.com

Request more info from Stalker Radar
Thank You!