Facing the Music: How one PD's software boosted efficiency, soothed citizen concerns
Learn how the Midland Police Service used SceneDoc to create digital evidence efficiencies and use tax dollars wisely
---
The following is paid content sponsored by SceneDoc
By PoliceOne BrandFocus Staff
The Midland Police Service is a municipal agency in Midland, Ontario, Canada, whose command staff wanted to prove to its 18,000 residents that its officers were putting in the necessary work to keep the town safe and operating efficiently.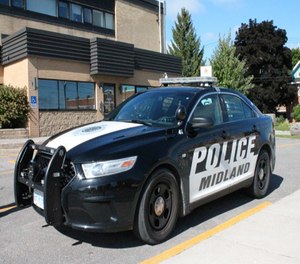 This meant reviewing paper processes—like filing reports and recording evidence—and developing a digital strategy that could improve efficiency.
The Problem: Public Perception
Like many police departments, Midland Police wanted to illustrate to their constituents they were being efficient with taxpayer dollars, said Jim Rettinger, staff sergeant at Midland Police. Like any police department, Midland police are under pressure by constituents to spend tax dollars wisely.
Midland wanted to find a data solution that would increase efficiencies in a way that could be shown to the public as well as to improve the movement of administrative data from those in the field to command staff. They turned to SceneDoc for advice.
SceneDoc is a software innovator that offers web-based mobile investigation and field documentation software that lets users accurately and consistently document crime, accident and other incident scenes That information then can be shared seamlessly with command.
The software works on any mobile device or desktop computer. Standard features include a time and date-stamped Digital NotePad that lets cops sketch and annotate on digital scene diagrams or photographs taken with their smartphone. It also can be used to capture written, audio and video evidence of a crime scene.
The solution was a great fit for the police service, so Rettinger asked the company if they could beta-test their solution.
The Solution: SceneDoc Software Suite
The company agreed and soon the agency deployed the SceneDoc software on agency-owned iPads assigned to 10 of 24 of Midland's police officers.
"SceneDoc was developed to be an easy-to-access application that helps officers document scenes, whether that is an accident, an incident or a highly complex crime scene," said Alex Kottoor, CEO.
The 'mobile first' application lets the officer document a scene using built-in notation tools. The officer uses their personal mobile device or one provided by their department to document the scene. That information then is transmitted to command staff, who can review it in near real-time.
With the touch of a button, officers can generate a report on the fly—meaning no more running back to the vehicle or the precinct. As an officer collects information at a scene, the information is being transferred in real time by SceneDoc servers and secured remotely on a cloud server, Kottoor said.
Incident data can be collected using the forms and provisioning system features. Customers have the flexibility to rebuild agency forms in a mobile friendly way and keep it in the same format officers are accustomed to.
"We want our agencies to be able to preserve their process," Kottoor said. "A user can take their mobile device out and fill out a form and it will look like the document they are used to seeing every day."
Rettinger said they uploaded their own forms into the platform, leading to a familiarity with forms and requiring little to no additional training.
The Result: Real-time Digital Evidence
Officers use the software to photograph found or recovered stolen property and, if necessary, submit the digital evidence in court.
Officers also use SceneDoc for accident investigations, including scene reconstruction as well as to photograph and document evidence at the scene of a crime or major case investigation.
Rettinger said all of this information is shared with approved administrators in real-time. It also provides a chain of evidence: every keystroke is logged, files are date- and time-stamped, users can be identified and changes are tracked using GPS coordinates. This streamlines tasks for command by making the reporting process easier, giving them a much better idea of what's happening on the ground.
It took 15 minutes to get officers up and running, Rettinger said.
The ROI: Real-Time Information
Rettinger said the solution has many benefits.
It eliminates manual data entry tasks, because information collected on tablets can be uploaded immediately into a records management system.
SceneDoc also was easy to deploy. Integrating the agency's forms into the platform was easy at the outset and continues to be convenient, he said. The IT manager simply uploads the forms into the platform and features are immediately available to agency personnel.
Rettinger said the agency has found these features "essential to ensuring the integrity of information collected and compliance with legal requirements" to maintain the continuity of collected evidence for criminal investigations.
SceneDoc proved its worth, so much so that he said the agency is planning to expand how they use it.
"The goal is to make it possible for officers to collect written, audio or video information, date- and time-stamp the content and transfer all data to a back-end system for subsequent use, including court procedures," he said.
This application would ensure the integrity of all information while making work easier for personnel, Rettinger said.
"We've just scratched the surface with SceneDoc," he added.
SceneDoc has proven its worth with the Midland Police, not only based on current applications for digital evidence management but also for future applications that will continue to create efficiencies by eliminating manual tasks and to keep officers in the field and send data in near real-time to commanders.
For more information on how SceneDoc can meet your agency's needs, visit www.scenedoc.com.

Request information from SceneDoc
Thank You!