New police iPhone facial scanner promising and controversial
Device attaches to back of mobile phone and identifies suspects by scanning their eyes
---
By PoliceOne Staff
Police forces across the country are planning to start using new mobile technology later this year that can identify suspects by scanning their eyes.
The device, which attaches to the back of a mobile phone, is held 5 to 6 inches from a suspect's face. It snaps a photo of the iris – the colored part of the eye -- and searches a database for a match, the Wall Street Journal reported.

The device and database together make up the Mobile Offender Recognition and Information System, which is manufactured by Plymouth, Mass.-based BI2 Technologies, an 11-person company founded in 2006.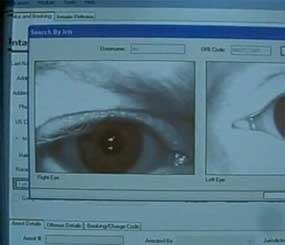 "The database is the golden nugget of the whole thing," BI2 chief executive Sean Mullin said. The system, which includes face and iris data collected when people are admitted to or released from a correctional facility, is able to instantly reveal a suspect's criminal history, he said.
For some, the portable facial recognition technology raises privacy issues, but its novelty has prevented any courtroom from ruling on it yet. It remains "a gray area of the law," Orin Kerr, a law professor at George Washington University, told the Wall Street Journal.
The Supreme Court has ruled in the past that when it comes to fingerprinting suspects, a law enforcement officer must first have "reasonable suspicion."

Iris scanning, which must be done at close range, could be considered a type of search, according to the report.
"A warrant might be required to force someone to open their eyes," Kerr said.
Previously, this type of technology has been limited to military uses such as identifying insurgents in Afghanistan or Iraq. For the time being, MORIS will be sold only to law enforcement officials, but BI2 is considering building applications for the health-care industry, Mullin told the newspaper.
BI2 has agreements with 40 law enforcement agencies to provide them with 1,000 devices, which cost $3,000, and some of the devices are being funded through grants directed by the U.S. Department of Justice's Office of Community Oriented Policing Services, the Wall Street Journal said.
Law enforcement could begin using them as soon as September.