How to buy thermal imaging cameras (eBook)
Download this PoliceOne thermal imaging cameras buying guide to learn key steps for product selection, purchasing and implementation
---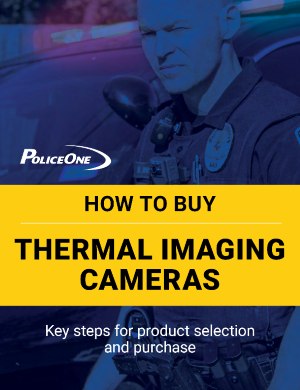 Firefighters have known for years that thermal imaging cameras (TICs) are one of the essential technological aids that can enhance firefighter safety.
By rendering infrared radiation (IR) as visible light, TICs give firefighters the ability to identify areas of heat through smoke and darkness.
While TICs can be used to locate and keep an eye on suspects or hostages in darkness, behind barriers or in inclement weather, there is much more that they can do. For example, TICs can be used to locate indoor or outdoor marijuana grows – and the technology is only continuing to improve.
This PoliceOne guide provides information on what law enforcement agencies need to consider when evaluating TICs and determining how to integrate this invaluable technology into their equipment cache.
Included in this guide: 
Key considerations before purchasing thermal imaging cameras
Questions to ask vendors
To download your free copy of the "How to buy thermal imaging cameras" Buying Guide from PoliceOne fill out this form.