Thermal imaging makes picturing the invisible possible for law enforcement
The world's largest thermal imaging maker offers a monocular that takes surveillance to a new level
---
Sponsored by FLIR
By Sean Curtis for PoliceOne BrandFocus
Guy Blocker has an impressive military background and when he wasn't involved with the Global War on Terror, he was working with law enforcement for the last thirty years, reaching back to the beginnings of the war on drugs. We recently spoke about the Scion PTM, a thermal imaging monocular that helps law enforcement see both during the day and at night.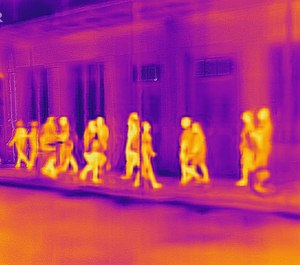 Darkness, no problem
Blocker said thermal is a technology law enforcement can't do without. He clarified this statement by adding the one thing police lack the ability to do: operate at night without being detected. This has been a challenge among several police functions that need to have the capability of sight without being detected.
The Scion PTM is an answer to that very problem by being covert, passive, and without emitting any kind of signature. As a result, suspects can't detect where officers are before officers detect them. 
One of the big advantages of thermal vision is that it doesn't require any light for it to operate. It's also becoming more popular among law enforcement because of this differentiator. Based upon differences in temperature, the readout allows users to detect differences between people, vehicles, trees, and other objects they may encounter. It's almost impossible to hide from. The Scion PTM takes full advantage of this. It also reads that heat signature through surrounding materials.
Blocker pointed out the critical ranges important to law enforcement that include:
Detection is where you can make out a target, be it a vehicle, or moving suspect.
Recognition is knowing what that object is, say a tall bush as opposed to a man or the difference between a shack and a van.
Identification is being able to tell between friend and foe so imagine being able to distinguish between friendly officers in the field and the suspect you are all looking for. 
All of these critical stages occur at different distances. Because of the improvement in resolution, the use of magnification means these core phases can occur at greater distances.
Thermal vision is also dependent upon a long-range lens for viewing at a distance though this makes the resolution a critical factor. Because the Scion PTM can run at a higher resolution of 640 by 480, it greatly increases the image clarity of a magnified image, not suffering from pixilation. When a user has enough experience with the system they can differentiate between the viewed object and background, potentially viewing suspects 1,000 yards out with an attached 25mm lens.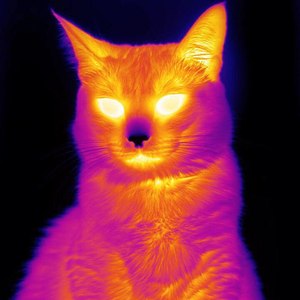 The Scion PTM utilizes both internal memory and the option for an external Micro SD card, up to 128 GB, which can be logged into evidence keeping without the unit.  The Scion's internal memory can record up to two hours of video and over 2,000 still images. Blocker said previous products required a DVR or other external recorder or required the unit to be logged into evidence.  This caused the officer to lose its use for that period.
Scion PTM in action
The Scion PTM has software that allows users to interface with TruWITNESS, making it like a body-worn camera tied to a network. This system allows the user to sign in the PTM with the server, assigning the sensor to the user. In each scenario of a secure facility, someone in the command post might receive an intrusion alarm. The responding unit, equipped with a Scion PTM with TruWITNESS, can begin viewing the intrusion live with thermal imaging. The beauty of TruWITNESS is that the person in the command post who dispatched the responder is also able to live view what the responder is seeing because it places the information on a network.  The Scion PTM processes at 60-hertz full frame rate, real-time data so there is no slow down, lag, or delay. 
Conversely, if the command post in this scenario had access to a pole-mounted imager with TruWITNESS, responding units could tap the same network to get a live image of what is going on before they even arrive. The value of having a live image for first responders is immeasurable.  Bluetooth and WiFi connectivity is available as well, vastly diversifying the capabilities of the unit. Users can receive live thermal imaging of a situation on their phone or mobile device. 
Imagine a scenario where a child is lost in the dark and searchers are coordinating with a FLIR equipped helicopter overhead. Previously, the only option was the pilot had to speak to ground searchers and try to explain what they were seeing, hopefully moving units in the right direction.  Now ground units will be able to connect directly with a properly equipped helicopter and see exactly what pilots are seeing on their phones. 
Now imagine exchanging the missing child for a suspect on the run and you've got an escalation in danger. Using this same technology, searching officers would now be more likely to determine if a suspect was armed. Also, they'd have a better idea of what the suspect was armed with. Because of the accuracy of the PTM, they would have a good idea of the lethality range of the suspect and how best to approach them. 
Packed with features
The Scion PTM also includes a magnetic compass.  A pilot could give a ground team a heading where they would locate the suspect or missing child.  It also includes an inclinometer and GPS.  Setting a waypoint at your vehicle before you head out on a search allows you to return there once your mission is complete—despite the darkness.  This is particularly important in rural areas where there are no streetlights, city glow, or ambient lighting. 
Six CR123 batteries can give you a runtime of four and a half hours with all features on.  However, with the rechargeable battery pack, users will see an even more extended run time. 
The Scion PTM offers a feature set that is critical to so many different aspects of law enforcement.  Overall, it can greatly improve investigations and intelligence gathering with increased safety. Mounted to a pole, a SWAT operator could sweep an attic for a hiding suspect and view the whole area through an eyepiece from a more tactically advantageous position. Corrections agents could also vastly improve the security and safety of their facility with the use of the Scion PTM.

Request information from FLIR Systems, Inc.
Thank You!