Jared Ogden joins Propper as new Brand Ambassador
---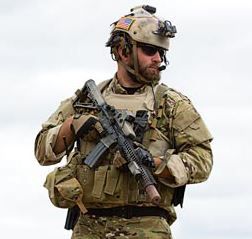 St. Charles, MO — Former Navy SEAL and reality television star Jared Ogden has joined Propper International as a Brand Ambassador.
Ogden graduated from the United States Naval Academy in 2004 and later graduated from BUD/S Class 265 and became a Navy SEAL. He was Active Duty for eight years, during which time he deployed four times and received the Combat Action Ribbon and Bronze Star with "V" for Valor.
In 2012, Ogden left Active Duty and contracted within the defense industry for three years before representing the Special Operations Community as a contestant on National Geographic Channel's Ultimate Survival Alaska for two seasons. He is currently an advisor to Senator Johnny Isakson (Georgia) and sits on his Service Academy Selection Committee.
"We are honored to have Jared aboard as a Brand Ambassador," said John Negrau, VP, Marketing & eCommerce for Propper. "The wealth of experience and charisma he brings will help our customers get to know the brand even better."
In 2015, Ogden co-founded St. Louis-based Triumph Systems, known for their Pivotal Trainer® and Threat Down® bleeding targets, and currently serves as CEO.
"As a St. Louis resident and business owner, it's great to work with a local company that has such a rich history serving the US military," said Ogden. "Their commitment to serving those who serve speaks volumes about the focus of the company."
About Propper
Propper has made tactical gear with a purpose for over 50 years, since their first U.S. Navy contract in 1967. Today, they design and manufacture professional level tactical apparel and gear for military, law enforcement and public safety professionals, and civilians, whether in the service, on the job, or off for the weekend.
Request more product info from Propper International, Inc..
Thank You!