IACP 2010: Airborne support for law enforcement that won't break the bank
Vanguard Defense Industries' ShadowHawk provides a serious strategic advantage for any agency that deploys it
---
If you are of the opinion that your department cannot have low-cost — or potentially even no cost — air support, the folks at Vanguard Defense Industries can very likely dispel that myth in about ten minutes of conversation. PoliceOne spoke with CEO Mike Buscher at IACP 2010 and learned in the span of only a few moments that a significant — albeit small — air support option is available to law enforcement agencies of any size. It's called ShadowHawk, and it provides a serious strategic advantage for any agency that deploys it.
Yes, Virginia, We Can See — and Shoot — You From Up Here
Pointing to a the 40 mm pod mounted on the port side of a ShadowHawk custom built for Department of Homeland Security, Buscher explained, "This particular aircraft is a weaponized version, but this also comes in handy for search and rescue operations because you can utilize 40 mm or 37 mm for a flare or smoke marking."
In addition, ShadowHawk can be equipped with TASER XREP — very probably a first for any Unmanned Aerial Systems (UAS) platform for American law enforcement. As we know, TASER XREP is a self-contained, wireless electronic control device (ECD) that on the Vanguard ShadowHawk can deploy via a patented targeting- and firing-system. The battery supply for the onboard XREP is fully integrated into the chassis and provides the power to drive the XREP projectile.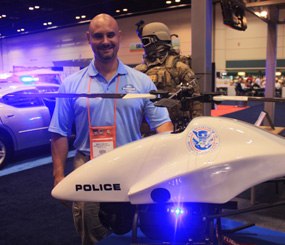 Even if you don't add less lethal weapons like XREP or search-and-rescue tools like flares or smoke to the ShadowHawk, it provides sophisticated and covert eyes-on-target capabilities to SWAT and other law enforcement teams. For example, you can pre-program up to 99 waypoints for the aircraft to observe, making it invaluable for recon missions. 
Fully-autonomous, Fangs-out Airborne Support
"You simply plug in a known address as a waypoint," Buscher said, "designate the altitude you want the aircraft to maintain — let's say 600 feet so it's not seen or heard — and the aircraft spools up, launches, and goes to that point to await further commands for that operation."
ShadowHawk comes in both a turbine and piston version — the turbine version can loiter on station for up to an hour, and the piston version can stay aloft for about three hours — essentially creating a fully-autonomous, fangs-out airborne support unit for the department.. Furthermore, they're very, very durable systems.
"The first thing you'll notice is the fuel tank on the bottom — that's a Kevlar fuel tank — the only Kevlar fuel tank in the UAV industry," said Buscher. "People may ask why we went to Kevlar, and the answer is that we're working with public safety so you have to have something that's safe. We actually have a multitude of redundant systems on board our aircraft."
For example, the bird can actually automatically auto-rotate — this is aviation-speak for a controlled emergency landing in a helicopter — safely to ground if there's a failure in the system. Further, if for any reason communication is lost between the bird and the controller on the ground, there's an RTB — aviation-speak for return to base — function that can be pre-programmed so the ship safely flies back to the departure area or some other rally point.
Demystifying Airborne Support for LE
Yep. "Auto-rotate," "RTB," "waypoint," and "loiter on station" are all pretty geeky aviation terms. But unlike an actual helicopter, which is very hard to fly — trust me, I've flown one and it ain't easy — Buscher maintains that ShadowHawk is easy to operate. Well, it's probably "easy" once you've completed the company's vigorous training regimen.
"We've worked hand-in-hand with the FAA to develop a certification program in whch individuals come through and are provided with an 80-hour program of instruction. The first several hours of the program gives them a FAA ground school certification. So the individuals — before they even start the UAS Operator course — they're actually ground school certified to FAA standards. On day four of the program, they take the FAA written exam and they start the UAS Operator course. It is a very robust class — it is a an aggressive course with a lot of fundamentals to learn — but we've had great success both with individuals who have previous aeronautics as well as individuals who have nothing but a desire to learn."
What Was That You Said About Free?
Sure, the ShadowHawk can cost upwards of a half million dollars — not counting the ground school, the insurance, the maintenance, and the upkeep — for an agency. But Buscher and his team have been successful in helping at least one agency secure a federal grant that paid every last dime of those costs.
The company is preparing to deliver the system to Montgomery County (Texas) Sheriff's Department, which is among the largest departments in the United States. Vanguard was able to work with the agency to develop a winning grant proposal that allowed the entire cost of acquisition, training, insurance, and maintenance for a period two years to be absorbed in an Urban Areas Security Initiative (UASI) grant. They now have a model for success to follow on the grants front, and surely the folks at PoliceGrantsHelp can provide additional assistance.
The ShadowHawk is currently deployed with the Department of Defense, and it is under evaluation with the Toronto (Canada) Police Department, LAPD, Austin (Texas) Police Department, Port of Miami, and Port of Houston.
Made by American Heroes in U.S.A.
The Vanguard Defense Industries website states — and CEO Mike Buscher reiterated — that ShadowHawk is equipped with both a digital daytime camera and a FLIR system that can be transported via a SUV-type police vehicle and launched in just under five minutes
Vanguard Defense Industries' ShadowHawks are 100 percent built in the United States, and the company is comprised of mainly former law enforcement and individuals who have served in military special operations forces. To say that the men and machines of Vanguard Defense Industries are impressive is an understatement of massive magnitude.

Request product info from top Police Search and Rescue companies
Thank You!