All Pro Security (Utah) Switches to Aladtec's Online System and Cuts Time Spent Scheduling Staff by 80 percent
---
September 17, 2014 - Previously, it took an entire week every month to schedule the staff at All Pro Security (APS) on spreadsheets - one for each of the 20 sites they provide security for.  Not to mention the time it took throughout the month to review, approve and make shift trades between employees on the 20 different site schedules. After switching to Aladtec, they spend 80% less time on scheduling related tasks.
"There were many things we didn't like about our old method. It was very time consuming because every client site was on a different spreadsheet so we were jumping from one to the next when trying to schedule and it also required our employees to do the same to be able to see what their schedule was. They would have to look at many different places to see where and when they worked. Shifts were sometimes missed because someone missed seeing a shift on one of the many schedules they had to look at. Another thing we did not like was when someone wanted to make a trade they relied on us, as management, to make it happen," explains Brennan Conner, Operations Manager, APS, Pleasant Grove, UT. "We made the change to an online system because we were spending way too much time on spreadsheet scheduling and we needed a better, simpler way to complete the process. Aladtec was the answer for us."
Through Aladtec's online employee scheduling and workforce management system, administrators can accomplish scheduling quickly and efficiently.  In addition, employees can make trades on their own and management simply has to approve, or deny, the trade.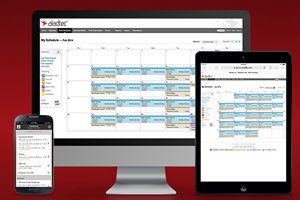 "With Aladtec, I love the ability to send out an open shift notification when we need coverage. Before it was all through email.  I'd send out an email and then wait for staff to respond that they wanted a shift. Then I would have to put them on the schedule and confirm it all. It was a time consuming process, now it's simple and very convenient. They are notified of an open shift and can sign up if they want it," Conner shares. "Our employees have caught on fast and seem to sign up for shifts a lot quicker, without waiting until the last minute. Aladtec has drastically reduced my time dealing with scheduling."
According to Conner, another reason they were pleased with Aladtec was the ability to try a free trial before making a commitment to subscribe. "It was not just a partial version that had half the features like many companies offer. Our sales rep, Eric Hahn, took the time to input our employee info and set up some schedules so we could really see how well it worked for our needs. We asked for that ability with other companies and they would not let us - they wanted us to make the commitment first," indicates Conner.
Aladtec online scheduling and workforce management system is available 24/7 from any computer, smartphone or other mobile device with Internet access.  This makes it easy for APS staff members to access their schedule from anywhere.  At a glance they can see when and where they are working - instead of having to look through many spreadsheets to figure out their schedule.
"I have received a lot of feedback from our employees that they love the Aladtec system. Our people love how simple it is to see their schedule and sign up right from their phones. Many have also mentioned they like receiving the email or text reminders for their next shift so they don't forget or miss it," says Conner.  "I use the mobile option a lot to send out open shifts when I am on the go.  Before, I had to be at my office computer because sending out a mass email was our only option.  Now a few clicks on the phone and I have sent out a coverage request to everyone who's eligible."
Along with the free customer trial, Aladtec provides free training, free upgrades and free customer support.  "We have loved using the Aladtec system. It has simplified our process drastically and freed up my time to manage other important aspects of the business. Aladtec customer service has also been amazing to work with. I had an issue on a Sunday so I emailed our sales rep Eric because I was in a bind.  He emailed me back and helped me resolve the issue. He did this on a weekend when Aladtec's is closed so he really did not have to respond right away; it was his day off," adds Conner.  "That kind of customer service has made the transition to Aladtec's online system very smooth.  It is a great asset to our business and we love the system."
About All Pro Security
Founded in 2006, APS has grown to be one of Utah's finest security guard companies. Their officers protect some of the top businesses, individuals and government facilities throughout the Utah. APS has several different divisions that covers business and/or personal security needs, including securing VIPS, dignitaries, government buildings, private residences or business locations.
About Aladtec
Aladtec is the proud provider of online employee scheduling and workforce management software.  Well over 1200 organizations, from a variety of industries, count on Aladtec every day to help them save time and improve efficiency.  For information about Aladtec's affordable industry specific options, or to try a free trial, please visit www.aladtec.com.