Why team training is a SWAT unit's lifeblood
Individual skills qualify a person for SWAT, but the ability to operate within a team during high-risk operations is what makes a person become SWAT
---
I complete every basic SWAT course I have ever taught with this statement, "Congratulations! You have completed basic SWAT training, but you're not SWAT yet; not until you train with your team."
You may have the sharpest uniforms, the best weapons, the most state-of-the-art equipment and your team might even pose for a team photo that makes the cover of SWAT International, but none of this makes your team a great team. It doesn't even make you a good team.
What makes a SWAT team great is dedication to excellence through a commitment to on-going team-training, then translating that training into repeated successes on the street. Success defines a great SWAT team.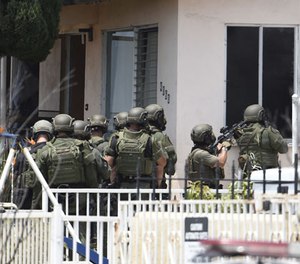 Pre-incident SWAT team skills training
Individual skills qualify a person for SWAT, but the ability to operate within a team during high-risk operations is what makes a person become SWAT. Team training should be a regular occurrence.  Regular training is less of an issue for full-time teams such as the NYPD, LAPD, FBI Hostage Rescue Team, or the Milwaukee Tactical Unit, however, it does become an issue for part-time and combined units, which comprise the majority of teams. These teams often have to fight to hold onto funding for their once a week or bimonthly team training sessions. For some teams, the thought of training once a month is a pipe dream. This is unacceptable. It is important to remember that if you do not train as a team then you are a team in name only.  
Near incident training
When planning SWAT team training do not overlook on scene training. This is an opportunity to use a similar facility near an actual in progress incident to practice contingency plans, while negotiations are underway.
For example, during a standoff in a hotel the entry team can practice in a similar room out of the suspect's sight.  At the scene of a bus standoff, a similar bus can be brought to the area for a last-minute walk through of the rescue plan.
The key to SWAT team success is to train often using a variety of scenarios. If a SWAT team is prepared to succeed, it will succeed.
A shared memory
There is another benefit to ongoing, repetitive SWAT team training. I would like to share one incident that happens to SWAT officers around the country.
After responding to countless calls with a colleague we made a no-knock entry. I was the last man in the stack on the designated white side of the house. My friend was the SWAT team leader.
As the breacher hit the door, it was immediately clear the door was not going to be breached easily. The team leader looked at me and said nothing. I instantly knew he was re-assigning me with that simple, but telling look. I moved to cover the door on the designated black side of the house with another officer.
Moments after I arrived, the suspect burst out of the door and we took the suspect into custody. As I was handcuffing the suspect, the breach was still in progress on the designated white side of the house.
That team leader and I had worked together so long that all he had to do was look at me in order for me to know exactly what he wanted me to do.  That moment spoke volumes about our teamwork.
Many SWAT officers have experienced similar moments.
When a SWAT team trains regularly together to first develop, then maintain and enhance their team-skills, they are able to operate like a well-oiled machine. Team training is like the high-performance oil in that machine. 
Is your team built like a Ferrari, ready to roll? Or is it more like a rusted-out Edsel parked and forgotten in a farm field, an inviting target for anyone with a gun?
You be the judge.
The SWAT team that trains together succeeds together.

Request product info from top Tactical Entry Tools companies
Thank You!