Ala. officer honored for saving woman
Police Officer Andrew Miller applied tourniquets to each gunshot wound on Sirita Spell's legs and prevented her from dying of blood loss
---
By Kirsten Fiscus
The Anniston Star
OXFORD, Ala. — On Aug. 10, Oxford police Officer Andrew Miller walked into roll call at 6 p.m., then was immediately sent to a home on Eden Place in the Knoxville community, he said Tuesday.
"We were in the door and right back out the door," Miller said, turning over a clear plastic case in his hand, a red pin with a gold cross inside. "It came out as a basic shots-fired call. We didn't know what it was we were going into. On the way we got more information that people had actually been shot."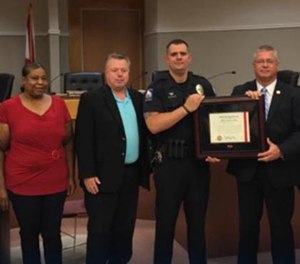 When Miller arrived, he said, he discovered Sirita Spell on her front lawn, a gunshot wound in each leg. Miller pulled the tourniquet from his belt and another from a medical kit and put one each on Spell's legs just above the gunshot wounds, he said, a decision that ultimately allowed her to make it to UAB Hospital without dying of blood loss.
Miller on Tuesday stood before the Oxford City Council, Oxford residents and several fellow officers as Oxford police Chief Bill Partridge bestowed the city's Life Saving Commendation upon him for his quick thinking. It is the first time the award has been given to an Oxford officer in the nine years Partridge has been chief, he said by phone last week.
A domestic dispute between Spell and her husband, Reginald Tyrone Spell, 41, led neighbors to call 911 that day, Oxford Capt. L.G. Owens said earlier this month. When Miller arrived at the home, Reginald Spell was dead, from an apparent self-inflicted gunshot wound, and the couple's daughter was nearby, said Ketrina Wright, Sirita Spell's older sister. Reginald Spell had shot his wife then fatally shot himself, Owens said.
Wright, who was at the award ceremony on behalf of her sister, said she felt blessed Miller was the one to respond.
"If he wasn't there, she probably would have bled out at the scene, and her daughter was there so it just means so much to us," Wright said, wiping tears from her face. "Just happy to have someone like that to step up and take charge and save her."
Wright said Spell has made improvements and is currently undergoing physical therapy.
"We are just praying she will make a full recovery," she said.
Partridge said that this kind of incident and response happens every day.
"Today we are able to honor an individual who doesn't look for accolades, just like the 99.9 percent of the other officers across america," the chief said. "This is the type of stuff that we need to let America know about, this is what we do every day. I always say quality police officers, quality training and quality equipment saves lives."
Miller echoed Partridge's comments.
"We don't go out looking for trouble," he said. "We're here to help people and that one event made all the other mess worth it. That's what we live for. That's the call we live for. Making a difference and someone gets to go home to their family because of that."
McClatchy-Tribune News Service