'Heroic' paramedics aid wounded Texas cops during shooting
Paramedics entered the hot zone and retrieved the wounded cops during the active shooter incident
---
By Azia Branson and Lee Williams
The Fort Worth Star-Telegram
FORT WORTH, Texas — In the minutes before police arrived to check out a possible suicide in the Wedgwood neighborhood, MedStar paramedics were already on the scene, having responded to the same call.
It was about 8:30 p.m. Friday in the 3800 block of Wharton Drive and the situation quickly escalated from a suicide call to an active shooting.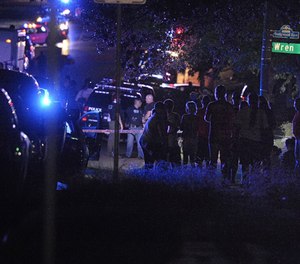 Gunshots were fired. Officers were hit.
Usually in situations like these, paramedics are required to stage about two blocks away, said Matt Zavadsky, MedStar spokesman.
But not this time — they were in the hot zone.
"They started to leave, then went back into hostile scene to get the officers and transport them to the hospital," Zavadsky said.
Officer Xavier Serrano, an 8-year-veteran and training officer, was shot multiple times in shoulder, arm and upper body, and underwent surgery Friday night at John Peter Smith Hospital. Officer Ray Azucena, a newly commissioned officer in training, was hit in the chest, but the bullet was deflected by his body armor. He was released from JPS Hospital early Saturday.
Police Chief Joel Fitzgerald released a statement Saturday evening, saying, "their prognosis is very good and they are both expected to make a full recovery from their wounds and a return to their job of protecting and serving our citizens."
"Officer Serrano has a longer road to recovery and remains at JPS Hospital where he is undergoing additional treatment and testing. He is lucid, and has immediate (and police) family by his bedside," Fitzgerald said.
Friday night, after arriving at the scene, the two officers entered the house and "found a dead elderly man in back bedroom," said Sgt. Marc Povero, a police spokesman. That man had been shot in the head.
A person inside the house who was in the room when the elderly man was shot had retreated to a shed in the back yard, Povero said.
Officers approached the shed and attempted to speak with the person inside, and that's when "someone fired at them," Povero said.
Both officers were struck by gunfire but were able to return fire at the shooter and take cover until other officers arrived, police said. Both officers were wearing body armor, officials said.
Jesse Guadina, who has lived in the neighborhood 3 1/2 years, said he went outside when he saw police cars and in a "split second heard more than 30 gunshots."
'Clearly people were heroic'
Zavadsky said Fort Worth officers carried their fallen comrades from the shed to a nearby area, where the two paramedics treated them before taking them to JPS.
Fitzgerald said the "colleagues who extricated both injured officers while being fired upon" and others involved "deserve our thanks."
Zavadsky described the teamwork between police and paramedics as "unbelievable."
Fort Worth officer Daniel Segura, police spokesman, agreed.
"We are definitely a close community of first responders," he said, naming police, fire and MedStar. "... Knowing we have each others' support makes everyone's job easier."
Zavadsky said said the paramedics would be formally recognized once details can be nailed down.
"Clearly people were heroic, but we want to get a better picture of what happened," he said. "But we're very proud of the paramedics who put themselves in harm's way to help these officers."
With the suspect still inside the shed, SWAT officers attempted to negotiate with the suspect and used tear gas to try to force the person out. A SWAT armored vehicle — a robot — was deployed to the shed and once officers were able to gain access, a dead person was found.
The person did have gunshot wounds but it's not clear if they were from police or self-inflicted, police said.
Officials have not released the identities of the elderly man nor person in the shed, but the Star-Telegram has learned they were Carl Fleece, 81, and his son, Martin Craig Fleece, 55. The son had a lengthy criminal past and neighbors said he lived in the shed where he died.
The scene in the normally quiet neighborhood became chaotic in the minutes after neighbors reported hearing at least four gunshots. Dozens of police units converged on the residential neighborhood in far south Fort Worth.
Those who lived within a few blocks were asked to leave their houses until the situation stabilized.
Injured officer shows support
At a late Friday news conference at JPS Hospital, Fitzgerald and Mayor Betsy Price were joined by officer Matt Pearce, who was badly injured in March when he was shot while chasing fugitives.
Fitzgerald also spoke Saturday at a Unity in the Community march in Fort Worth and talked about the difficulty of policing in today's world. Besides the shooting in Fort Worth, two officers were shot Friday in Philadelphia, where Fitzgerald had previously served.
Pearce attended Friday night's news conference to show support to his wounded comrades.
"It's more frustrating than anything else to see this happen so close to when I was injured," Pearce said. "I don't want to see anyone injured. I wish I could say I'm going to retire in 19 years and never see another officer get injured or another officer get killed but unfortunately that's not the way the world is going. I have to show them the same support that they showed me.
"If I can be a familiar face of someone that survived this just six months ago then hopefully that will ease the minds of the families and the officers," Pearce said.
Before Friday, he was one of three officers shot in Tarrant County this year. Euless officer David S. Hofer was killed March 1 while responding to a call at a city park and was ambushed by a 22-year-old drug addict who previously threatened to kill police.
Two weeks later, Pearce was shot and was hospitalized for two months.
Arlington police officer Eddie Johnston was wounded in a shootout with a murder suspect in April. He was treated and released a few hours after being shot.
Copyright 2016 the Fort Worth Star-Telegram
McClatchy-Tribune News Service