Affordable Firearms Training With Lasers
---
This week, on Tactical Tuesday, I'm going to share an incredibly effective firearms training tool that's being used by everyone from suburban housewives practicing defensive skills to special operations teams drilling for direct action.
What is it?  It's called the SIRT (Shot Indicating Resetting Trigger) and it is a dedicated laser firearm training platform.
While I mentioned it briefly in Tactical Firearms Training Secrets, I didn't have enough trigger time on the platforms to include them in the book.  I'm glad to say that I currently have 3 of them (that I purchased) and I have become a HUGE backer of using the SIRT.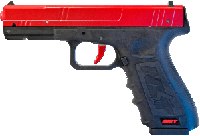 Read the full review here.