Blauer Tactical Spear System Training Calendar
---
Will your training support your next violent confrontation?
It should and it can.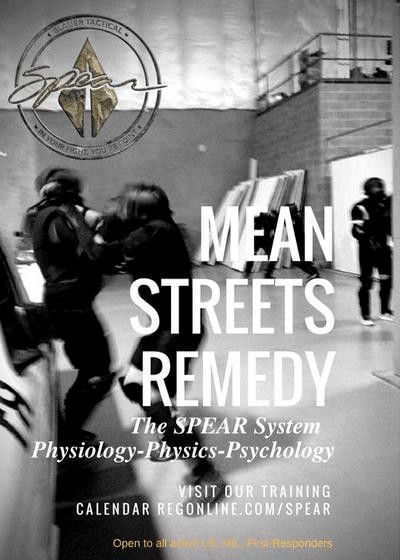 Watch this short video of highlights from the SPEAR SYSTEM: CONTROL & ARREST WITH DEADLY FORCE OPTIONS:
Don't see a course near you?
Email ask@blauertactical.com for hosting information.
See the entire BTS Calendar here.
ACTIVE DUTY
NOVEMBER
November 26 - November 29, 2018
SPEAR System: Instructor Certification (Aberdeen, Scotland)
https://spearsystem.regfox.com/spear-aberdeen-scotland
(This course was designed for Healthcare workers)
OPEN COURSES
NOVEMBER
November 10, 2018
Be Your Own Bodyguard Workshop (Kansas City, MO)
https://spearsystem.regfox.com/byob-kansas-city-mo
Get your agency into high gear: Special prices for agencies

Contact ask@blauertactical.com for a quote
Visit our website to learn more about High Gear.

Request more product info from Blauer Tactical Systems
Thank You!