Coach Tony Blauer teaches how to get the training LEO's need for today's threat.
---
"During a sudden attack, the human physiological system produces a 'flinch' that recoils the body from the attack. This physiological 'flinch', or reflex, overrides complex motor skill patterns (i.e. learned DT tactics), which explains why most individuals fail to access their trained combative skills during sudden intense & extreme close quarter confrontations."
Coach Tony Blauer: We want to help police officers get the training they need for today's threat. We have a goal and mission to double the training opportunities for all police officers. To learn more about our methodology visit this link: http://pdrteam.com/leo-mil-firstresponder
About Blauer Tactical Systems: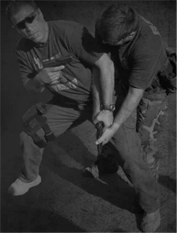 Tony Blauer's philosophy and mission has remained constant since 1979. He has always searched for a better way. He has not tried to perpetuate a style; instead he has tried to educate an international community on the importance of psychology, fear management and behaviorally sound tactics. More importantly, he has passionately shared his research to the martial arts and combative community through his seminars, articles, videos and audio's.
Tony's company, Blauer Tactical Systems, Inc. (BTS) along with his Personal Defense Readiness™ (P.D.R.) team continues to research and evolve personal and professional safety training and products.The emotional and psychological arena is Tony Blauer's domain, his research is used the world over and can easily be incorporated and implemented into a personal or professional defense strategy and/or practice.
If you're interested in personal safety or you're an instructor or trainer looking for new information to share with your students, we invite you to experience Tony Blauer's research on fear management, close quarter tactics and simulation training.

Request more product info from Blauer Tactical Systems
Thank You!