Introducing the SKIDBIKE, the Ultimate System in Motorcycle Survival Training
---
The SKIDBIKE is ready. How ready? Like, on the shelf ready. Call today and we can send you one, ready.
We know it took a while to make all of the updates that we thought were important. And waiting stinks. But you were awesome, and stuck with us, and you're about to be so glad you did.
What's new?
The patented Front Wheel Traction Control Device (TCD) has been supplemented with a Rear Wheel TCD. Used either together or separately, the front and rear TCDs will give your instructors an aide never before available in rider training. Only SKIDBIKE offers the exclusive ability to adjust the front and rear tire grip to allow learning of not only the basics of motorcycle control techniques, but also to provide future exposure to new technologies like ABS, traction control, and Motorcycle Stability Control (MSC). The new geometry on the carriages, the addition of
the rear carriage, wireless control of grip and engine shutdown, all make the SKIDBIKE completely improved.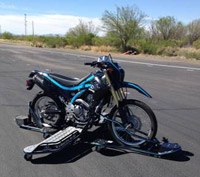 Enhancements include:
• Rear Wheel Traction Control Device
• Easier attachment
• Higher ground clearance
• More robust safety wings
• Practical and easier to use traction adjustment controls
• Auto and instructor operated wireless engine shut off control
The prototype was great for braking, but this version is a completely different experience that not only meets the needs of the basic rider, but now has capabilities for the experienced rider as well.
Who's it for?
SKIDBIKE offers professional motorcycle training schools, academies, and dealers a tool for training vital safety concepts and techniques to all riders.
Check this out!
Do you want to be able to quickly demonstrate and expose new riders to concepts that are integral to riding? Do you have trouble bringing in experienced riders for supplemental training? The SKIDBIKE offers an abundance of exercises that extend well beyond "basic" beginner curriculum.
New Rider lessons:
Balance
Vision
Front brake control
Rear brake control
Dual brake control
Gear selection
Clutch activation
Friction zone concepts
Leaning
Experienced Rider practice exercises:
Balance
Vision
Front brake control
Rear brake control
Dual brake control
Gear selection
Clutch activation
Friction zone concepts
Leaning
Threshold of lock up, Front Brake
Threshold of lock up, Rear Brake
Counter‐steering techniques
Throttle control:
On/off throttle with handle bar straight
Throttle control with handle bar pushed
What causes a Low Side
What causes a High Side
Low Side management and control
High Side Management and control
Proper rider body positioning
How does the SKIDBIKE work?
The SKIDBIKE is engineered to adjust tire grip through the electric ram and independent dual carriage system. Safety wings that control the pre‐determined maximum degree of lean angle between 0 and 35 degrees are connected to an attachment bracket, which is mounted to the frame.
Through loss of the coefficient of friction, speed and road conditions are simulated. The G's and speed are lowered so that if the rider fails to control the bike and "crashes", the safety wings inhibit the fall, stopping the event before the rider can hit the ground or be thrown from the bike. Additionally, the Instructor operated SKIDBIKE Controller can cut engine power at the push of a button.
When we balance the bike with both front and rear loss of grip, it showcases how important that measure of front wheel grip is. You're sliding sideways, but now the front is losing grip. What do you DO? This life‐saving, practical exposure has never before been SAFELY available in rider training.
The SKIDBIKE has proven to be a thoughtful technology with many uses, including future applications of safe exploration and rider exposure to new electronic controls and safety technologies like ABS, Traction Control, and more.
Why you want one….or heck, maybe even two…
SKIDBIKE™ is the world's ONLY adjustable rider training device, and the best possible learning interface available.
The ROI is substantial for a number of different applications: Attract more new student riders, because they can learn in safety without worry of the crash. Motivate a new customer base of experienced riders who want to practice in ways never possible before.
Because the new SKIDBIKE design lends itself to a multitude of uses, it further increases the purpose and value of what is already the most effective and most realistic low speed training available today. As many of the more popular training curriculums move to an online format, this active, hands‐on learning tool will be a perfect fit at the rider training area for critical knowledge and skills to be learned in reduced timeframes for maximum efficiency.
There are 21 reasons to use a SKIDBIKE for Basic new Rider Training or Experienced Rider Practice: 10 wheels + 2 struts + 2 electric rams + 2 wheel carriages + 2 safety wings + 3 way wireless controller for front and rear grip and engine shut down… = 1 device and infinite possibilities.
Contact us for more information or to schedule a demo for your facility or riding school