Save 15% on PPE & Training Gear from UTM
---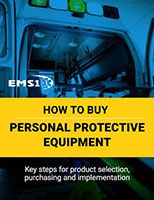 Ultimate Training Munitions (UTM) is offering savings on its Personal Protective Equipment, which is specifically engineered to help tactical training. Any order of PPE, UTM Weapon Conversions, or combination order exceeding $5,000 or more will receive 15% off.
Lightweight and Breathable
Provides Protection during force-on-force without sacrificing range of motion
Easily adjustable and allows access to duty gear.
Role player or officer specific versions available.
Full face shield, non-fogging helmet
Click here to contact UTM and save 15% on new PPE.
About UTM
UTM was founded in 2000 with a mission to provide a safe training ammunition that would allow military, law enforcement and professional training organizations to 'train as they fight' in immersive and authentic training environments and disciplines.

Request more product info from Ultimate Training Munitions
Thank You!