Save 20% on UTM's Portable Training Facility
---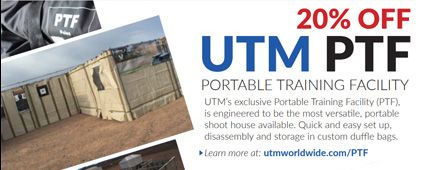 Ultimate Training Munitions (UTM) is offering savings on its Portable Training Facility, engineered to be the most versatile, portable shoot house available. Quick and easy to set up, the PTF disassembles into custom duffle bags for maximum portability.
Portable, durable and versatile shoot-house for force-on-force training
Use individual walls for drills such as cover management, cornering and door entries
Easy to set up and reconfigure during training
Add ceilings for low light training
Great for CQB and Mission Rehearsal
Set up a UTM shooting range virtually anywhere!
Berry Compliant version available
Click here to contact UTM and save 20% on the Portable Training Facility.
About UTM
UTM was founded in 2000 with a mission to provide a safe training ammunition that would allow military, law enforcement and professional training organizations to 'train as they fight' in immersive and authentic training environments and disciplines.

Request more product info from Ultimate Training Munitions
Thank You!