SPEAR System Science of Self-Defense Camp 2018 - August 18 - August 19, 2018
---
Coach Tony Blauer and his team are gearing up for their 10th annual combatives camp in Las Vegas and their 72nd consecutive SPEAR: PDR Trainer's certification.
If you're near Vegas you don't want to miss these two events.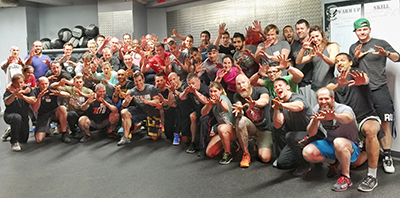 Very special pricing for active duty.
Train personally with Coach Blauer! Check out the schedule here!
Blauer has been incredibly busy with lots of overseas training too. To assist with current and future certifications he just released the ONLINE ON RAMP program with over 50 chapters on Blauer's research and theories on startle-flinch conversion and strategies and tactics for inside the reactionary gap. Life-saving content.
SPEAR: Trainers Certification from Tony Blauer's SPEAR University on Vimeo.
Have you checked out the KNOW FEAR podcast? Amazing guests like Brian Murphy, Brian Chontosh, Jared Reston and more: https://www.knowfear.today/
To host a SPEAR CERTIFCATION email ask@blauertactical.com
About Blauer Tactical Systems
Blauer Tactical Systems (BTS) is one of the world's leading consulting companies specializing in the research and development of close quarter tactics & scenario-based training for law enforcement, military and professional self-defense instructors.

Request more product info from Blauer Tactical Systems
Thank You!