Why one company dominates when it comes to full-service range designs
Learn how Meggitt Training Systems has spent more than 90 years building a business based on a culture of shooting range innovations
---
The following is paid content sponsored by Meggitt Training Systems
By Sean Curtis for PoliceOne BrandFocus
Meggitt Training Systems is a market leader in full service shooting range solutions, spending more than 90 years providing range solutions that keep shooters safer and makes maintaining ranges easier.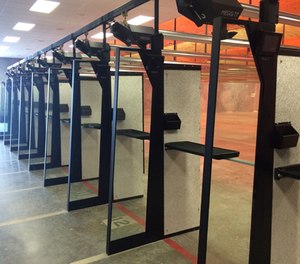 The company is known for a wide array of range products, whether that is groundbreaking technologies like its XWT, a wireless target retrieval system, or the GranTrap, a granular rubber bullet trap.
How did the company arrive at this vaunted status? A culture of innovation.
The GranTrap Rubber Bullet Trap
Part of Meggitt's innovation included a strategic acquisition in 2003 of Caswell International, a business that had been innovating live fire shooting since 1926.
Caswell was the first to invent the steel bullet trap, said Jon Read, vice president of live fire systems. Read said ranges first utilized pits with berms of sand to stop the projectiles. This was problematic because the lead literally had to be mined from the sand.
These problems led to the company's invention of the steel bullet trap. With steel, bullets would crash into the plates and shatter in a safe direction. These pieces fell to the floor behind the trap and made subsequent lead collection much easier.
Read explained that if not maintained properly, lead dust (remnants from the fractured bullets) would become a concern. Meggitt solved the issue by improving on its own design, and the GranTrap rubber bullet trap was born.
Using granulated rubber, Meggitt created the GranTrap with a new, patented stair-step design to hold the rubber in the trap and prevent it from spilling out onto the floor. The brilliance of design lay in rubber material, nearly eliminating bullet fragmentation and lead dust, and helping with noise abatement.
On an average shooting lane, the rubber only needs be cleaned and removed every 75,000-80,000 rounds, allowing for a clean trap and efficient lead recycling.
The Meggitt GranTrap outperforms its competition because it is safer, quieter, easier to maintain and more environmentally friendly, Read said.
Target Retrieval Systems Inventions
Bullet traps are just one aspect of Meggitt's shooting range innovations. The XWT Gen 3 is the first wireless target system in the United States.
Utilizing simple, programmable, touch-screen controllers, the XWT carriers will extend, retrieve and rotate a target 360 degrees. This creates options for shooters looking to engage in decisional training.
Shoot / don't shoot scenarios are even more challenging when an edged target can rotate to a police officer on one side, or an imminent threat on the other.
In addition, the XWT is quiet, low maintenance, and rated for pistol or rifle. The components are hardened for service life, so they do not need to be continually replaced.
Read said the XWT is part of a holistic approach to full service range solutions including a laundry list of components such as sidewall and ceiling protection, various types of shooting stalls, electronic communications and integral security systems that will prevent people from crossing firing lines.
Motion sensing lights recognize people moving into shooting zones and cause targets to "edge" while simultaneously activating signal lights. Some products even feature hit detecting and scoring for targets.
Systems can be controlled by a master control or a wireless tablet for convenience, he said.
Road Range Semi-Trailer Range
Another industry first from Meggitt is the Road Range.
Imagine a 53-foot semi-trailer fully installed as a three lane shooting range, complete with HEPA air filtration, unified controls and a GranTrap bullet trap.
This 100 percent mobile, ballistically secure trailer is self-contained and can even come with a generator to provide power for all the systems. 
Combining two or more Road Ranges gives you the capability to have six lanes side-by-side, or three lanes with 25 yards in an end-to-end configuration.
Future Technologies
With a firm grasp of Meggitt's past history and present evolution, Read indicates the future is exciting, too. Advancements in range control systems, shooting stalls, target carriers and more lie ahead for Meggitt Training Systems and their customers.
Meggitt has been serving the law enforcement and military communities for decades—providing innovative products while building and improving upon their designs over the years.
With a history of creating industry firsts like the steel bullet trap, GranTrap rubber bullet trap, XWT wireless target carrier, and Road Range mobile shooting range, the future promises much more to come.
For more information about full service shooting range designs, contact Meggitt Training Systems

Request information from Meggitt Training Systems
Thank You!