3 elements of effective police training
Use varied approaches for maximum impact, including field training, online learning and virtual reality simulation
---
Sponsored by VirTra
By Steve Tracy for PoliceOne BrandFocus
Training is an essential function for police agencies, with three key approaches to consider. First, your personnel serve as Field Training Officers, making sure new officers receive basic instruction before hitting the streets on their own. Second, a structured and complementary curriculum can help trainers focus on improving trainee performance. The third and most advanced approach is virtual reality simulation.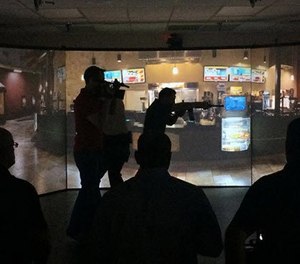 What makes these three different types of training effective, and how do police departments use these tools to maximize their success?
Field Training Officers
When it comes to your FTOs, making sure they are up to the job can be hard to evaluate objectively. Your training officers have a challenging task that takes its toll. They're teaching the street and business locations, the law, paperwork, computer systems, booking, tactics, civilian interaction and so much more.
Police departments need officers who are not only excellent at conveying knowledge (a 40-hour class on instructing should be mandatory in addition to FTO school) but also have the desire to impart their positive view of the job on recruits. An FTO with a negative attitude is a lousy starting point for officers right out of the academy, no matter how much experience and knowledge the FTO may hold.
Have new officers complete a survey anonymously about their FTOs when they finish the program. You will ascertain who is benefiting your department as an FTO and who may need a pep talk or perhaps release from the assignment. You cannot have fresh recruits soured by 8-12 hours a day trapped in a squad car full of negativity.
Classroom Instruction and Online Training
Another standard method of training is live instruction, which can take place in many forms. Often there is a classroom component, but it can also involve roleplay in an outdoor setting or on a shooting range to provide a first-hand learning experience. Although there are many schools of thought on what method works best, it's clear that officers need to practice and test on their skills to make sure they are adequately prepared for the field.
It used to be that almost all classes were offsite and mileage and lunch had to be reimbursed, classes had to be paid for, and the street still had to be covered. The somewhat recent concept of online computer training allows officers to complete specific mandatory governmental requirements when there is downtime during a shift. However, many police agencies find there is little true downtime, so particular assignments to the computer workstation may be necessary to complete the training.
Online training should always be completed in the security of a police station (or similar secure facility) and not inside a squad car. Officer safety must take precedence. Focusing an officer's attention on a squad's in-car computer screen for online training is a terrible idea. Officers on the street need to concentrate on their surroundings and awareness, especially these days.
Usually, these online classes are programmed for individual use and learning. It is impractical or impossible for several officers to watch them at the same time. One key advantage of these online seminars is that they can cover annual certifications and mandatory governmental programs (such as bloodborne pathogens, hazmat and domestic violence). Instead of teaching these requirements during live training days, the online training frees up more time for hands-on and more personalized training.
Virtual Reality Simulation
We use our ranges for firearms qualifications and fire live rounds in low-light conditions, under stress (timed fire or with flashing lights and distracting noise) and while moving to cover. Reloads, clearing malfunctions and one-hand/offhand shooting are all aspects of firearms training that the courts have deemed mandatory and need to be included.
In addition to the range, simulation training is one of the most effective ways to train today's police officers to perform their jobs well and to keep officers and the public they serve safe. Simulation training is supplemental to live fire, not in place of it. Virtual reality training provides realistic interaction scenarios that are difficult to reproduce consistently on a live-fire range. When properly conducted, the advantages of learning in the virtual classroom (where mistakes can be made and learned from) are invaluable.
Officers who experience immersive, interactive and responsive virtual reality training are better prepared for real-world encounters. They have already been there and done that during their VR training sessions, so situations feel familiar when they occur on the street. Officers know they have options proven to work in training that will work in real life.
Ken Wallentine directs the Attorney General Training Center as a special agent of the Utah Attorney General's Investigation Division. They train with the VirTra system, and he said he believes the training provided by VR training simulators cannot be replicated by any other training method.
"The consistency of documentation and learning that occurs as a result of virtual reality training makes it the most affordable, realistic and impactful training for law enforcement today," Wallentine said.
Today's systems range from a single large screen displaying a scenario to 300-degree wraparound street scenes that officers' step into for a "check your back" awareness that offers further elements of realism.
The VirTra training systems incorporate actual firearms just like those your department carries (handguns, long guns, electronic control devices and batons) equipped with lasers and run by compressed air. The weapons operate like the real thing but eliminate the possibility of accidentally firing live rounds.
They are linked to audio systems that provide gunshot sound effects, and their semi-automatic slides cycle, disturbing the sight picture for a lifelike experience. If the instructor does his or her job properly and officers commit to the true-to-life system, there is no more realistic training available.
Virtual reality training is much more than a "shoot/don't shoot" video game. Officers use their tactics and verbal commands/communication skills to read body language and threat cues (hands in pockets, darting eyes, changes in posture and attitude) while using de-escalation techniques and critical thinking.
It's remarkable to watch officers put all of their skills together and solve a simulation scenario realistically with a positive outcome. The trainer controls each scenario and can branch it to react to an officer's level of skills. Not every situation ends in a shooting. The actors in the simulation can respond and drop a knife or stop behaving aggressively.
Virtual reality simulators are used to evaluate a return to duty after specific incidents raise concerns about an officer's abilities. Documenting a passing score in various scenarios proves an officer is capable of performing the job again. Some police departments are even employing VR scenarios during the hiring process to aid in determining quality candidates for law enforcement duty as a key differentiator.
If every situation resulted in officers drawing their handgun and firing, training would quickly become a matter of quick draw. The result of varied outcomes is that an officer never knows what's coming next, which mimics real-world situations. Multiple branching scenarios, which activate based on the officer's judgment in the moment, is what makes VR training invaluable .
About the Author
Steve Tracy recently retired from the Park Ridge Police Department (which borders the northwest side of Chicago) after 30 years of service, 28 as a firearms instructor.

Request information from VirTra
Thank You!