Realistic use-of-force training anytime, anywhere
Meggitt Training Systems' FATS 100P makes it possible to bring virtual training into the community
---
Sponsored by Meggitt Training Systems
By James Careless for PoliceOne Brand Focus
Well-publicized decreases in violent crime rates across many major cities in the United States since the 1990s belie a more troubling reality: the risk to law enforcement and those they protect remains unacceptably high. As perceived threats proliferate in occurrence and nature, police officers often find themselves challenged to make split-second, use-of-force decisions not just in traditional public venues, but also in residential, business and even educational settings.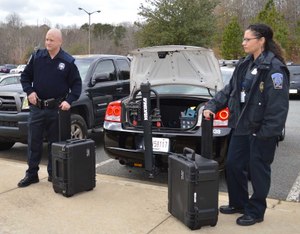 The variety and potential intensity of these threats necessitate frequent training for law enforcement officers in realistic, relevant scenarios. Only under these conditions can escalation and de-escalation be taught in a completely controlled, repeatable manner to safeguard the lives of all concerned.
Virtual simulation training uses interactive full-motion projection videos and a range of simulated firearms to allow officers to make mistakes while learning, without putting their lives on the line. Realistic simulation training also lets officers experience the adrenalin that occurs when someone pulls a gun on them and helps them learn to think through that rush. It is akin to teaching a novice pilot how to deal with engine failures in a simulator, rather than in a real aircraft 10,000 feet in the air.
Meggitt Training Systems is a leading supplier of virtual weapons and live fire training systems for law enforcement agencies, defense customers, and commercial shooting range owners around the world. Mindful that many of its law enforcement customers need an affordable simulation weapons training system in a portable platform, Meggitt has created the FATS 100P Portable Virtual Training System. Small enough to fit into a single large ruggedized carrying case, the FATS 100P lets police departments easily conduct realistic virtual weapons training wherever and whenever they want to.
Train for judgment and marksmanship
The FATS 100P comes with a laptop computer loaded with more than 250-plus interactive video training scenarios (with the ability to branch into 1,250 related video segments based on the trainee's actions), a high-powered projector for displaying the video on a full room height wall, and 5.1 surround sound speakers. To add to the realism, police departments can produce their own training videos in locations that are familiar to the trainees.
When the FATS 100P video system is set up in a room, the officer finds him or herself in a full-sized location faced by one or more shooters, each with a different agenda. Up to five people can be trained at a time, in interaction with each other. As in real life, the officers have to make split-second decisions on what to say, how to respond to what they're seeing, and how to assess the imminent threat that each suspect poses. And the scenarios are anything but static; just because one gun-toting suspect has been successfully dealt with, doesn't mean that another won't suddenly appear and threaten the trainees.
The FATS 100P is designed to offer realistic training to officers with an emphasis on de-escalating potentially violent situations. Realism is key, and enabling muscle memory and positive training means officers will have better responses in the field when faced with dangerous situations.
By using Meggitt's judgmental training, the FATS 100P's videos teach trainees how to survey and react to verbal cues, facial expressions and overall body language to quickly assess situations and to interact appropriately with individuals using proper verbal commands and perishable skills training. Through repeated simulations, they learn to cope effectively with a host of stressful situations and to understand their own reactions in the process.
The 100P can also support up to five weapons, including Meggitt's patented BlueFire wireless weapons, Dvorak or laser insert weapons, electronically controlled devices and chemical spray.
Should the day arrive when these trained officers face a real suspect and have to de-escalate a situation, they will know what to do and have the muscle memory to respond quickly. The results will be measured in lives saved.
Advantages for police departments
The FATS 100P carrying case is small enough to go into a patrol car's back seat and taken anywhere training needs to be conducted. This portability allows rural departments spread across large areas to conduct high-quality virtual weapons training in all of their locations or to share with other agencies, especially because the FATS 100P only requires one person to operate the training laptop and related systems.
The FATS 100P's portability also allows police departments to use it for community outreach to give civic leaders, citizens and other stakeholders a realistic experience of what it's like to face a shooter and decide upon the safest form of response under pressure. Once the participants go through the virtual training, they are more likely to appreciate the dangers faced by police officers protecting their communities.
Such awareness can translate into more support for police from local government and an improved perception from members of the public. At a time when violence is dominating the headlines, it makes sense for police to teach the public what it's like to be on the front lines without putting anyone at actual risk.
Police agencies interested in evaluating the FATS 100P Portable Virtual Training System may contact Meggitt Training Systems to inquire about their "try before you buy" loaner program.

Request information from Meggitt Training Systems
Thank You!