Aftermarket vendors retool for new police vehicles
Although police package vehicles come with beefed-up suspensions, cooling, transmissions, electrical systems, and so forth, most of the other equipment that makes it a functional police car comes from third-party vendors
---
A few weeks back, the last Ford Crown Victoria rolled off of the assembly line in St. Thomas, Ontario (you did know these weren't true American iron, right?), ending 32 years of production of what may have been Ford's most profitable model. Never before has a police package vehicle endured for so long that officers could retire without ever having driven another model patrol car. Sadly, Ford determined that it would be too costly to bring the Panther platform on which the Crown Vic was based to 21st century standards. Ending production of the line also benches roughly 1,200 Ford employees in St. Thomas, as there are no plans to re-tool the plant for another Ford model.
Of course, Ford isn't leaving the police car market. Taking the place of the Crown Victoria is the Ford Interceptor and Interceptor Utility, which we're not supposed to call the police package Taurus and Explorer (although that's what they are, and we will, anyway), respectively. General Motors offers the Chevrolet Caprice and Impala, while Chrysler has the Dodge Charger in the police vehicle market, so there won't be any shortage of new cars to buy.
Without a single model having primacy in the law enforcement market, aftermarket vendors are rethinking their designs and model lines. Although police package vehicles come with beefed-up suspensions, cooling, transmissions, electrical systems, and so forth, most of the other equipment that makes it a functional police car comes from third-party vendors. It's not a police car without one or more radios, light bars, siren, a prisoner cage, control heads, and a computer, among other things. The manufacturers of this equipment have to design to fit the customer's platform, and tolerances are tight and unforgiving.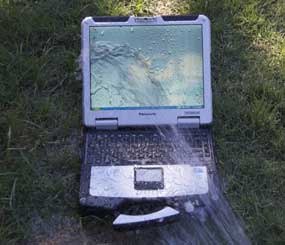 For example, the mount for a computer display has to make allowances for the gearshift lever, airbag zones, center console, heater/air vents, wiring harnesses, dashboard controls, etc., and needs anchor points that match up with places in the passenger compartment that will accept bolts or other attachments to hold it securely. This is enough of a challenge when you're dealing with a single vehicle model — try to imagine doing it with five or more.
It's not enough just to design new equipment to put in the new model vehicles, because many, if not most agencies transfer gear from retired cars into new ones.
Dave Poulin, Senior Business Development Manager for Panasonic Solutions Company, said, "We expect Toughbooks to last five years, and they do. We have customers using them for much longer than that. [The legacy model] designs are spilling over into the new model cars." Poulin added that purchase of new computers was often driven not by the old machines wearing out, but with the need for more current technologies to run the software the agencies were using. Software to run multi-touch displays (touchscreens that will zoom out or in with a "pinch" or "spread" of two fingers on the screen), for example, requires hardware that just wasn't available five years ago.
There are considerable benefits for departments that purchase the new breed of vehicles. The dramatic rise in gas prices over the past few years caused automakers to produce more efficient power plants without a corresponding change in performance. The new cars also produce fewer harmful emissions. Police package cars will ship with more equipment integrated at the factory, like light bars and sirens, and the interiors are pre-wired with more power outlets and cabling that makes it easier to install equipment without tearing up the car.
The Charger has a "Keyless Enter-N-Go" system that permits opening the locked doors without a key, so long as the electronic key fob is in the driver's pocket. Once inside, the driver starts the car by depressing the brake pedal and pushing a big "START" button. Officers can go their entire shift and never touch a car key, and it takes a real effort to lock the keys in the car.
If there is a sacrifice to the new model cars, it's with interior room. The Ford Taurus/Interceptor loses between 0.5" and 3" in head, shoulder and hip room over the Crown Vic, gaining only 0.3" in leg room. New seat designs made to accommodate Sam Browne belts and gun butts will make that a bit less aggravating, but big guys like me are still going to feel the loss.
The annual IACP conference is set for the last week in October, and that's the big cop toy show. It will be interesting to see how the large aftermarket community of car equipment vendors responds to the new vehicle models.

Request product info from top Police Vehicle Equipment companies
Thank You!