Texas cops fired on with AK-47, saved by BearCat
The SWAT commander says there is no doubt the vehicle saved lives that day
---
TYLER, Texas — A murderer fired more than 35 rounds from an AK-47 on cops in Tyler, Texas last month. Thanks to a recently purchased BearCat police vehicle, not one of the officers was killed, or even injured.
The officers were investigating the house of Howard Granger, a suspect in the murder of Benjamin Gill Clements – the son of a former Texas governor.
When cops arrived, Granger opened fire on them, unloading 36 rounds into the vehicle. A sniper killed him with one shot shortly after and Clement's body was found in a shallow grave on his property.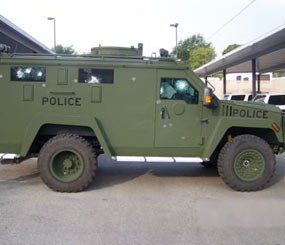 The vehicle, a Lenco BearCat G3, had only 500 miles on it at the time and was a controversial purchase in the community prior to the incident. Some accused the department of spending too much on "something that will never get used," according to Tyler PD SWAT Commander Rusty Jacks.
He says there is no doubt the vehicle saved lives that day.
"It allowed officers to approach the residence safely and protected them under heavy fire from a very high-powered rifle," he said.

Request product info from top Police Vehicle Equipment companies
Thank You!