Field-tested: Panasonic's H1 Field and C1 Toughbooks
Pair of new portables offer rugged performance on the go
---
By Scott M. Bruner
PoliceOne Product Editor
Panasonic's Toughbook series have been among the leaders in providing ruggedized mobile platforms. In the past few weeks, the company has launched a pair of new additions to the family, the Panasonic H1 and C1. While both offer different features – and levels of ruggedability – both are designed for a number of public safety applications.
The Toughbook H1 Field
The H1 – launched last month -- is a handheld tablet computer. Included in Panasonic's fully rugged line, it is designed to handle the absolute toughest situations an emergency responder might face.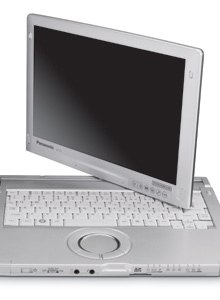 The H1 features a 1.86 GHz Intel Atom processor with 2GB of onboard RAM and a 64GB hard drive. The batteries are hot-swappable and offer six hours of use in the field.
"The weight, battery life, the processor and the convertibility are what we feel makes it truly remarkable," Kyp Walls, Panasonic's director of product management, said.
The H1 Field includes a 500 nit, 10.4" dual-touch display that offers both tablet and touch screen functionality. The display includes a circular polarizer, plus anti-glare and anti-reflective screen treatments, making it easily viewable in direct sunlight. The tablet weighs 3.4 lbs, and features a hand strap behind the unit for portability.
It's certified to meet IP65* and MIL-STD-810G* and has a six foot drop rating. The H1 also can also handle optional SmartCard, RFID, and barcode readers, camera, GPS and Qualcomm's new Gobi2000 mobile broadband technology.
The Toughbook C1
The C1 is a more traditional laptop with a swiveling monitor attached to a keyboard. The laptop is considered "business-rugged;" not quite as durable as the H1 but ideal for a vehicle mount. It was introduced this week. Panasonic boasts it is the world's lightest 12.1" convertible tablet.
The C1 features an Intel's Core i5 processor with 2GB RAM and a 250GB shock-mounted hard drive. It also has hot swappable batteries, with an impressive 10 hours of battery life. It is also configured for optional Gobi2000™ mobile broadband. The Toughbook C1's dual hinge, and swivel monitor, design allows the computer to quickly be converted from a laptop of tablet configuration.
In Panasonic's tests, it successfully survived drops of 12" from any angle for the unit itself and 30" for the shock-mounted hard drive. Additionally, the Toughbook C1 survived a 30" drop to the base of the unit while operating.
"I test a lot of products for police use. I got into the product evaluation business because I got tired of equipment failing me when I really needed it. When I test equipment, I rarely get the total package," PoliceOne reviewer Lindsey Bertomen said. "Many products meet one aspect or another of user expectations, only a handful can do it all. Panasonic's Toughbook series have always managed to be rugged and provide great performance under the hood."
Information on Panasonic's full line of notebook PCs for the mobile professional can be obtained by calling 800-662-3537 or at http://www.toughbook.com.

Request product info from top Police Consoles companies
Thank You!