Digital Ally, Inc. Introduces the Digital In-Car Video System
---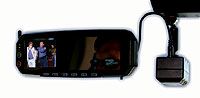 A NEW GENERATION OF DIGITAL VIDEO
Technology that is so advanced and so small that the entire Digital Video System is integrated into a Rearview Mirror complete with:
3.5" Color Monitor
GPS
900 MHz Audio Transceiver
Internal Microphone
Speaker
EASY INSTALLATION
The unique design of the system allows it to be easily installed in any make or model of vehicle without taking up any extra space or interfering with any other equipment. Simply replace the factory rearview mirror.
INVISIBLE MONITOR
The monitor is completely invisible to the driver when not being used. It can be turned on manually or can be set to automatically come on when record is activated.
RUGGED AND DURABLE SOLID STATE MEMORY
Records directly to solid state memory to provide the most reliable medium for your evidence. Solid state offers no volatile moving parts like hard drives and other mediums.
PERFORMANCE AND QUALITY
Utilizing advanced MPEG 4 provides the highest quality and longest record times. Select from three different recording levels to provide from 4 to 16 hours on a single 4GB compact flash card.
INTEGRATED GPS WITH MARK FEATURE
Continuously records and displays the vehicle's coordinates showing exact location. "MARK" important events such as a weapon or contraband being thrown from a fleeing suspect's vehicle with exact Latitude/Longitude coordinates.
PRE-EVENT RECORDING
Capture up to 60 seconds of the action before activating the record mode. Supervisor control to enable or disable pre-event audio recording.