Carbon Motors™ Uses Laguna Suspect Transportation Seat in its Concept Demonstration Vehicle
---
use if there is a picture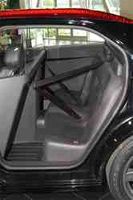 end picture
ATLANTA, Georgia, December 2008 – Carbon Motors Corporation today highlighted that the Concept Demonstration Vehicle ('CDV') for the Carbon E7 – the world's first purpose built law enforcement patrol vehicle—uses a suspect transportation seat from Laguna.
"Suspect transportation is an important role played by law enforcement vehicles. The rear seat needs to effectively restrain a suspect to ensure officer safety. The seat from Laguna, in combination with the 'Ready Buckle' restraint system does this very well. We are very pleased to be working with 'Laguna' and showcase their seat in our 'CDV'", remarked Trevor J. Rudderham, executive vice president and chief development officer, Carbon Motors Corporation.
Ralph Harpster of Laguna said, "It was a pleasure to work with the people behind the manufacture of the 'CDV'. In their intent to bring about the reality of the Carbon E7 we were highly impressed with the professionalism of their approach to the needs of law enforcement and their desire to equip the vehicle with the most effective components available. In our 17 years of serving the law enforcement community, we feel truly privileged to be part of such an exciting project." Learn more at www.laguna3p.com.
About Carbon Motors Corporation
Carbon Motors Corporation is a bold, new homeland security company on a critical mission to design, develop, manufacture, distribute, service, and recycle at end-of-life, the world's first purpose-built law enforcement patrol vehicle. Learn more at www.carbonmotors.com.
About Laguna
Laguna Manufacturing serves the law enforcement market with security and restraining seating products. Prisoner transport, arrest, and riot control makes our products the best alternative to others. 3P the name you can trust for professional prisoner transport and restraint products. With Laguna Manufacturing you get the best products, with emphasis on officer safety and ease of operation.

Request more info from Laguna Manufacturing, Inc.
Thank You!