Law Enforcement Death and Destruction - Preventable With Trooper Trap
---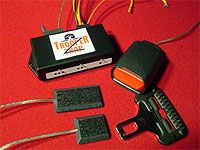 A Houston officer killed, an Indiana woman's self-inflicted shot, a stolen Georgia police car. These are just a few headlines which were all preventable. Police departments need to be proactive instead of reactive.
Oklahoma City, OK (PRWEB) October 2, 2006 -- During this past week a Houston police officer was tragically shot and killed by a prisoner who sat in the back seat of a police car. A police car in Atlanta Georgia was stolen by a female prisoner and a woman in Indiana shot herself in a patrol vehicle while police talked to her male friend. All of these situations, plus hundreds of other reported escape events every year, have one thing in common - they were all preventable.
A patented prisoner seatbelt alarm called Trooper Trap was invented by an Oklahoma law enforcement officer to prevent prisoner escapes and stolen or damaged police cars. Trooper Trap assists officers by sounding an alarm on the outside of the police car as soon as a prisoner releases the seatbelt. This alerts officers immediately that the prisoner is no longer secured in the seatbelt.
Officer safety and making sure officers go home alive at the end of their shift is our objective. Trooper Trap is the next best thing to having a partner in the patrol car honking the horn if the prisoner releases the seatbelt. Trooper Trap offers a FREE test and evaluation period. For more information about Trooper Trap visit www.troopertrap.com.