Go Rhino! Introduces the Road Defender 5000 Series
---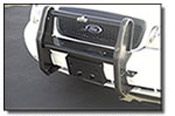 The Road Defender 5000 Series push bumper is the brand of choice by many major law enforcement agencies in North America. Listening to what fleet mechanics, installers, and police department personnel want has resulted in our often imitated, never duplicated product line. Great care has been taken to ensure that no drilling is required and that installation takes less than 30 minutes. GoRhino! parts are custom designed for each application. This ensures proper mounting and enhances the look of the vehicle. Heavy-duty steel is used throughout. When you need the best - "Run with the Rhino!"
Key Features:
No drill installation
Quick and easy install
Rugged black powder coat finish
Increased visibility of lights
Improved collision avoidance
For more information on the Road Defender 5000 Series for your cruiser, please visit www.gorhinopd.com or call 888-427-4466.