Westin Automotive Receives Patent for Public Safety Division PIT Bar Elite
---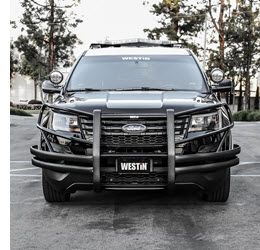 San Dimas, CA – It is with great pleasure that Westin Automotive announces the receipt of U.S. Patent US D755,094 S for the PIT BAR Elite, a Westin Public Safety Division component option to the Elite system of front-end protection products.

Westin's patented PIT Bar Elite design uniquely attaches to the Push Bumper Elite, the core product in the Elite system. It is a vehicle specific contour design that provides the best "roll-off" for implementing PIT maneuvers. It's made of heavy duty 7 gauge HRPO steel to withstand repeated on-the-job wear and tear. In a recent independent test, Westin Public Safety Division Elite program far exceeded the competition for sustained PIT maneuvering hits (over 125) and public safety vehicle protection standards.

Westin Public Safety is a division of Westin Automotive Products, Inc., San Dimas, CA, specializing in protective, active duty vehicle equipment. Westin Public Safety products include Push Bars, Light Channel options, Wing Wraps and PIT Bars for the most popular agency vehicles in use today.

For more information, please call Customer Service 1-800-345-8476, 7am - 4pm, M-F PST or visit our website www.westinpublicsafety.com.

Request more info from Westin Public Safety Division
Thank You!